---
---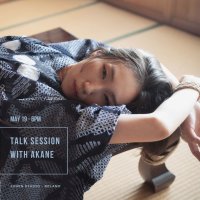 After wrapping up the "Creativity in Gote" workshop, Akane will present a talk session about her vision of kinbaku, photography and kinbaku photography in particular.
The presenter
Akane is one of the most important models of the Japanese kinbaku scene. Her unmatched beauty and expressiveness lure audiences passionate in both semenawa and aibunawa. She has been tied by legend kinbakushi as Naka Akira and Yukimura Haruki. Her continuous work with Sugiura Norio is featured in the most important kinbaku publications of Japan.

The event
Akane will talk about her journey in ropes and underline the peculiarities of the Japanese scene. Questions will be alowed, yet moderated.

All the attendees of the "Creativity in Gote" workshop are welcome to stay as guests, other attendees will pay a small entry fee.