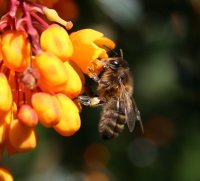 Going Native – The Potential of the Black Bee
SICAMM Conference 2020: 
The Native Irish Honey Bee Society (NIHBS) are proud to host this International black bee conference on behalf of SICAMM, the International Association for the Protection of the European Dark Bee, featuring speakers from home and abroad, including:
World authority on honey bees: Professor Tom Seeley, Cornell University;
Master Beekeeper and Scottish Native Bee Breeder: Andrew Abrahams, Colonsay, Scotland;
Raffaelle Dall'Olio: BeeSources Beekeeping Consultancy (Bologna, Italy)
The conference starts at 9.00 am on Friday and runs until Sunday lunchtime at the Athlone Springs Hotel. 
Plus: Excursions to visit a native black bee apiary (John Summerville's, Tullamore) Sunday afternoon and (Galtee Honey Farm) on Monday. 
The full schedule of presentations will be available later on the NIHBS website www.nihbs.org

Conference and meals Booking: Advance booking is strongly recommended!  Generous 50% early discount applies if booked before 30th June 2020. Click the "Buy Tickets" button to proceed with online booking and payment using Paypal. 
On-site registration from 8.00 a.m. each day BUT note that payment after 30th June and on the day will cost 50% more, so please save time/money and book early. 
You can find the form for the Call for Presentations and Abstracts http://nihbs.org/sicamm-confer...  

Accommodation:
Accommodation Booking: If you wish to stay at Athlone Springs hotel, you must contact and pay the hotel directly +353 (0)90 644 4444. We have agreed special NIHBS B&B rates if booked before 30th June 2020. 
Double or twin room, Thurs €89, Fri €99, Sat €135, Sun €99, Mon €99.
Single room, Thurs €79, Fri €89, Sat €125, Sun €89, Mon €89.
Remember to quote NIHBS/SICAMM to get our special B & B rates or book online: athlonespringshotel.com
Rooms at conference hotel are limited but lots of other accommodation available – list here http://nihbs.org/sicamm-confer...
For more about Athlone - places to stay and things to do: athlone.ie