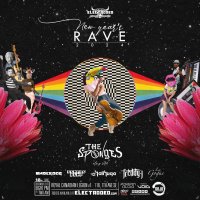 ELECTRODEO is proud to present NEW YEARS RAVE 2024!
We couldn't be more excited to bring you a night packed full of amazing music to ring in the new year in style!
This year's theme is RAVE!
We highly encourage dressing up and costumes. We can't wait to see what you come up with!
FEATURING Music by:
THE SPONGES - Denver, Co
FREDDY J - Calgary
KALI YUGA & THE GENESA PROJECT - Calgary
THE UNDERDOG - Calgary
DONALD BUMP - Calgary
Dancer Performances by LaGogue
This event is Powered by VOID Sound and Beama Visuals
TICKET INFO:
Limited Early Bird : $60
GA Tier 1 : $65
GA Tier 2 : $75
GA Tier 3: $80
More At the Door, if available!

Sunday Dec 31, 2023!
Royal Canadian Legion #1
116 7 Avenue Southeast, T2G 0H5, Calgary
18+ Event, ID at door.
Tickets are non-refundable
DJ INFO and BIO
THE SPONGES
From the deepest and darkest soul-snatching pits of the inescapable swampy hellscape known as Florida, arose an unlikely glimmer of light… The Sponges. Blending classic scrunchy-faced funk with next level bass house production, The Sponges have carved their own lane in electronic music. Having gained support from artists such as GRiZ, Zeds Dead, Tchami, AC Slater, The Floozies, Manic Focus and Jauz, it's clear that their infectious sound is the perfect addition to peak party hours. Due to their deep-rooted love for hippie fests and nightclub debauchery, the duo's mission has always been to blend sounds, bend bodies, and deliver the most fun and energetic listening experiences to audiences everywhere.
After FIVE #1 records on Beatport, The Sponges are well on their way to establishing themselves as one of the greatest acts to ever grace the sonic wasteland known as the electronic music industry. Prepare your playlists for the dukes of disco, the future of funk, the lords of the low-end, the czars of certified bangers, the emperors of ecstasy, the rulers of the rave, the bassline bastards, and the gods of groove as they gear up for an explosive year in 2022!
https://www.facebook.com/The-Sponges-555629408138209
https://soundcloud.com/thesponges
https://www.instagram.com/thesponges
https://twitter.com/thespongesrback
https://www.youtube.com/channel/UCJrWLS2B7ZPRZNawbRjvrsw
https://open.spotify.com/artist/3cj6O7NrjS5l0CVo8LhpV1
https://www.beatport.com/artist/the-sponges/706800
-------------------------------------------------
FREDDY J
Since his beginnings in 2001, Freddy J has been on a focused mission of constant development, molding a unique style that is sure to deliver dancefloor mayhem. With twenty years as a leader of the scene, he has cemented himself as one of Canada's premiere DJ's.
He never fails to bring the best bass-driven party funk possible, with a style that can be described as electro meets funky, dirty, whompy, groovy, bassline. Having headlined at a multitude of club and festival events, the experience Freddy J brings to the tables shines through and gets people moving on the dancefloor.
2022 saw Freddy J open the Fractal Forest as part of his 12th appearance at Shambhala Music Festival, and once again he showed why he keeps getting invited back year after year... this is definitely one DJ you won't want to miss!
https://soundcloud.com/freddy-j
https://www.instagram.com/freddyj222
https://www.facebook.com/FreddyJBasshttps://www.youtube.com/channel/UCH80YK8VDF5NqQUq9_g2wrw
https://twitter.com/FreddyJ_Music
https://www.beatport.com/artist/freddy-j/526787/tracks
-------------------------------------------------
KALI YUGA AND THE GENESA PROJECT
Kali Yuga & The Genesa Project (Tanner Cherry) are a dynamic duo of do-ers whose passion for the electronic music community and love for one another shines through in all of their work. Their project encompasses a wide range of ventures, including producing and spinning music, stage design, event curation, and video podcast hosting. Whatever the medium, be it through music, art, production, or podcasts; The Genesa Project & Kali Yuga strive to connect people within the community and make their dreams come true.
Behind the decks, their live performance is high energy and interactive; engaging the audience through wild movement and ecstatic drive. Known for bringing the deep and heavy bass, their selection of trap, psytrap, neurohop, and glitchy bass music in addition to live guitar is sure to get your booty movin' in the most obscene and obscure means possible.
A favourite within the Western Canadian electronic music scene, they have graced the stages of many events and festivals such as Shambhala, Astral Harvest and Motion Notion. Catch them coming up at NYE RAVE!!
www.soundcloud.com/kaliyugabass
www.soundcloud.com/thegenesaproject
www.facebook.com/thegenesaproject
-------------------------------------------------
THE UNDERDOG
Maker of Whip-It Thrones and Phat Beats. Full of awesomeness and surrounded by amazing humans who power said AWESOMENESS ! YYC born and raised, 15 year Electronic Music Dj. The Underdog started producing music over last few years, recently debuting a new track in Fractal Forest, Shambhala Music Festival with fellow collaborator and long time friend Freddy J. Hitting the music scene with everything the Underdog can, from Music Production, to Branded Merchandise, to Metal Art. All art forms show the Underdogs love for creativity and passion, all represent the Underdog to the core of who he is. Breaks, house of every kind, Big Bass music, Dnb, Chill, Euphoric, the Underdog plays and delivers to any crowd. Creator and curator of the No Fucks Given Mix Series on. This mix series has seen much success over the last few years, with 10's of thousands of plays around the world. Showcasing some of the best in Bass House, Tech House, G house, Brazilian House, Brazilian Bass, Brazilian Bass line and all forms of dirty house beats. Love through music, through music we love, bound forever in endless soundscapes. Our collective love for music will never die and nor will the Underdogs!
Thanks for streaming, truly <3 Please like , follow and share.
https://soundcloud.com/theunderdog
https://www.instagram.com/underdogyyc
https://www.facebook.com/jonnyunderdog
-------------------------------------------------
DONALD BUMP
Calgary, CanadaDojo Entertainment / Sheppard Records / Render Recordings / Wildfire Recordings /B.Nasty Beats
During the alcohol prohibition that was in effect from 1919 until 1933, Donald Bump andThe Syrup Smugglers used to store bootleg liquor as it made its way to the UnitedStates from stills in such Canadian locals as Bump Town of rogues, but during theDepression years, many a costal family supplemented its income by supplying a thirsty nation with the maple syrup and illegal beverages it craved.Syrup Smuggling is one of Donald's favorite pass times but he will always save time for his other Passion 4X4 Klub Beats, Breaks, Garage and Sunken Low End Bass.Donald Bump has been working hard in the music industry since 2002, playing over 175 different clubs and special events. He enjoys the Western Canadian Festival circuit by frequenting such fest's as Astral Harvest, The Womp, Vibrant, Fozzy Fest, Electrodeo,Mogul Smoker & Motion Notion. Donald's knowledge and passion for music, alongside many hours creating his sound has allowed him to releases many tracks & EP's on multiple label imprints including Sheppard Records, Render Recordings, WildfireRecordings, B.Nasty Beats and many more. Bump's music has also received international support from top Djs and Producers like Deekline, Shiba San, Se7enDeadly Breaks, Funkanomics, Dj B-Side, The Freestylers, Marten Horger and ThePlump Djs . Being a trendsetter in the Canadian club scene has landed Donaldappearances to play along-side the likes of Wuki, Neon Steve, Freq Nasty, KeithMackenzie, Mafia Kiss, SkiiTour, JPOD, Kytami, Featurecast, Justin Martin, NickyGenesis, Barry Ashworth of the Dub Pistols and multiple times for artist's like Phibes, DjIcey, WBBL, Slynk, Krafty Kuts, JFB, Lady Waks , Stanton Warriors and Many More.
https://soundcloud.com/donald-bump
https://www.facebook.com/donaldbumpmusic/
https://www.mixcloud.com/donaldbump7/
https://donaldbump.bandcamp.com/http://freshrotation.com/donaldbump
ttps://www.facebook.com/donald.bump.7