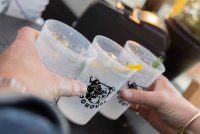 Join us for a night of fun in the Doghouse! 
You may have heard along the grapevine that we like to be different (for instance we are the only distillery in London making gin from scratch) - we definitely aren't known for following 'the norm' - and our Distillery Nights are no exception! 
We kick the night off with a welcome drink (as all good nights in the Doghouse start with a drink) and then we will head off on our "grain to bottle" expedition...
We will start in our micro-brewery (where we will mill, mash and ferment wheat) and then head into the distillery (where we distil and rectify our spirits in our 1500m pot still and 21m column). You will learn all about how we take 100% English wheat and handcraft it into our award-winning vodka and gin.
And we reckon the best way to learn is 'by experience'...  so you will 'sniff and sip' samples all along the way as you hear about each stage of the process.
Have you ever wondered how and why there are different styles of gins? Or what the differences between them are? Do you want to know how best to serve your spirits, what mixers and garnishes to use? We will tell you all about that, along with the Doghouse story and how we came to be London's only "grain to glass" distillery, with a passion for breaking the rules. 
But... when you cast your mind back to the best nights you have had in your life, you aren't normally on a tour are you? You are generally in a bar, listening to music with friends, having a great time. And this night will be no different! Once the learning is complete we will put our knowledge to good practice (at the Doghouse bar) and hang out amongst the copper pipes listening to great music.  
You ticket includes 3 full sized drinks, samples and your tour. Once you have had your three drinks, you can then buy drinks at the bar (at extra-specially discounted prices). You can also buy discounted bottles or apparel on the night, and can arrange to come back to collect your purchases or have them posted to you.