---
Buy tickets
Ticket Type
Price
Fee
Quantity
---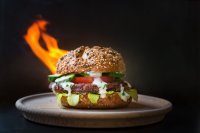 Vegan Foodie Festival is coming back to Dublin. Interactive and very unique festival that connects people to vegan & vegan friendly business.

Selected restaurants, eateries and vegan friendly places across the city will create a special menus / entertainment programs / special offers for the event. Participants will engage with the festival by visiting places, eating delicious foods, sharing their experiences on social media and voting best dishes! Festival will highlight the many benefits and flavors of plant-based eating and show how easy and delicious it is to choose vegan options and kinder foods.


Vegan Foodie Festival It's a celebration of the wonderful mix of vegan and vegan friendly restaurants on offer in the City. Vegan foodies are being encouraged to enjoy a world of culinary adventure with new menus and offers. We are challenging vegan diners to 'try something new', so we're hoping that people will be up for sampling some new dishes and styles of food.
Participating restaurants, take away's and cafes offering new set menus, discounts and other special offers for the time of the festival.
Get your ticket to avail all special offers, menus and discounts! 
Festival is taking place in restaurant & participating places themselves.
From 10% UP to 50% OFF for the time of the festival in selected restaurants !!!!!!
We are back to :
DiFontaines - Authentic New York Pizzeria
Sova Food Vegan Butcher
McGuinness's Takeaway
V Temple bar
Aperitivo Dublin
Veggie Vibe Cafe
WokeCup Café
The Bombay Pantry
Brother Hubbard - NORTH
ThunderRoad Cafe
Bowls Healthy Eating
Ground State CafeThe Carrot's Tail
Kale + Coco
And our awesome Sponsors / Partners are:
Flying Squirrel Vegan Cheese
Chocolatey Clare
Bliss Bites Bakery

Attendees will enjoy new menus, discounted prices, entertainment and special offers in participating places.


The goal of Vegan Foodie Festival is to introduce people to new vegan things and places while stimulating vegan friendly local business, build greater public awareness through participation, find unique ways to promote vegan products, increase sales for vegan & vegan friendly restaurants, while offering something different for foodies in the city.
LOCATION
Various locations Dublin