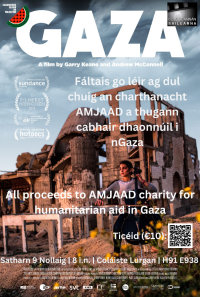 GAZA _ Taispeántas Carthanachta
Stiúr: Garry Keane, Andrew McConnell. 90 nóim Teastas: 12A
Teanga: AraibisBlaiseadh: https://youtu.be/35Q1YHBOE1w
2019 Éire, An Phalaistín
Portráid álainn ar ghnáthshaol laethúil mhuintir Gaza , a thugann léargas ar láidreacht agus ar dheaslabhartha na ndaoine agus iad faoi léagar.
Scannán faisnéise de chuid Garry Keane agus Andrew McConnell , a bhí mar iontráil na hÉireann don clár faisnéise is fearr sna Oscars 2020.
Tabharfar na fáltais ar fad don gcarthanacht AMJAAD chun cabhair dhaonnúil phráinneach a sholáthar in Gaza.
Is féidir leat síntiús a thabhairt d'AMJAAD anseo here
Buíochas le Wildcard Distribution.
AMJAAD - carthanacht atá ag obair in Gaza le seacht mbliana. Cuireann siad cúnamh ar fáil do bhreis is 2000 teaghlach gach bliain – ag soláthar córas iompair chun rochtain a fháil ar chúram leighis, chomh maith le bia, leigheas agus éadaí .
Gheobhaidh AMJAAD 100% de gach síntiús
GAZA – Charity Screening
Dir: Garry Keane, Andrew McConnell 90 mins Cert: 12A
Language: Arabic
Available from: Now
Trailer: https://youtu.be/35Q1YHBOE1w
2019 Ireland, Palestine
A beautiful portrait of everyday Gazan citizens, leading meaningful lives beyond the rubble of perennial conflict. This multi-award winning documentary by Irish filmmakers Garry Keane and Andrew McConnell was Ireland's entry for Best International Feature Oscar in 2020.
All proceeds from this screening will be donated to AMJAAD to provide urgent humanitarian aid in Gaza. You can also donate here
Screening permission with thanks to Wildcard Distribution.
AMJAAD Charity has been working in Gaza for 7 years. They provide assistance and aid to over 2000 families every year – providing transportation to access medical care, as well as giving food, medicine and clothes .