---
Get your ticket
Ticket Type
Price
Fee
Quantity
---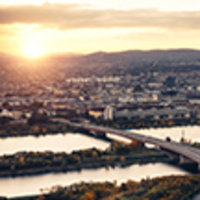 This year's Fluidtime Symposium is dedicated to the fragile balancing act between collaboration and competition. To be successful in the MaaS world often means opening up to new markets and facing challenges. Players once competing against each other frequently need to collaborate on the dynamic and demanding mobility landscape. So where are the boundaries between competition and collaboration? Who writes the rules? And more importantly, does collaboration kill or strengthen innovation?

The fifth Fluidtime Symposium addresses all mobility actors that are relevant for an urban ecosystem. These are, for example, representatives of city administrations, public transport, sharing services, micro-mobility, on-demand services, research institutions and technology companies.  Our goal is that at the end of the fifth Fluidtime Symposium, each participant will have the necessary knowledge to develop a MaaS solution for their own city or region.

You find the program, speaker details and additional information on our event page. 

Important Information for MaaS ecosystem participants: To register, you need an access code that you should already have received from your MaaS Ambassador. You will need this code when you purchase your ticket. If you do not have it, please write to us at event@fluidtime.com .