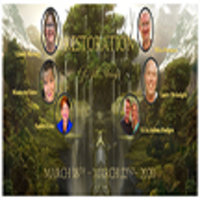 An innovative, interactive conference to explore the impact of the Restoration of All Things to us as maturing sons of God and what it means for us today and in the age to come.  Speakers include: Mike Parsons, Nancy Coen, Lindy Strong, Larry McKnight, Shannon Bates and Gil and Adena Hodges.  Whether this is a new concept for you or you've believed it for years, this conference will strengthen your understanding and give a road map for how we walk this out practically.  
You may also purchase lunches for the four days and we are planning creative, interactive ways to process together in small group conversation the things that we will be learning, so you won't want to miss this addition!
Are you a late nighter?  We will also be making available some late night sessions with Nancy on two of the nights.  These will be recorded and available for those who need to get some rest.  
Live Stream will be available for those who cannot attend in person. 
Address: Joyland Church, 5085 List Drive, Suite 160, Colorado Springs, 80919
Dear Attendees,

please see below for the hotel and menu information for the conference. We look forward to meeting you face to face!

Event Summary:


Restoration of All Things Conference

Start Date: Wednesday, March 18, 2020

End Date: Sunday, March 22, 2020

Last Day to Book: Wednesday, February 26, 2020

Hotel offering your special group rate:

Towne Place Suites Colorado Springs Garden of the Gods for $89 USD per night.

Hot breakfast.

Shuttle service provided to and from conference.

Please call (719) 594-4447 or select the link below to book your reservation;

Book your group rate for Restoration of All Things Conference
RESTORATION OF ALL THINGS CONFERENCE MENU
Dear Family,
I know you will enjoy your time of communion during mealtime
and you may receive a hot meal during lunch while attending the
restoration conference for an additional charge of only $60.00.
MARCH 19TH MARCH 20TH
CHICKEN, TURKEY SUBS SOFT TACO'S
TOPPINGS/VEGGIES CILANTRO, LIME RICE, BLACK BEANS
CHEESE, LETTUCE PROTEIN
HOUSE SALAD CHICKEN
DESSERT TOPPINGS/VEGGIES
BROWNIES LETTUCE, CHEESE, SALSA DESSERT
CHOCOLATE CHIP COOKIES
MARCH 21ST MARCH 22ND
PROTEIN PROTEIN
PINWHEELS; CHICKEN CHICKEN GNOCCHI/MINISTRONE SOUP
TOPPINGS/VEGGIES TOPPING/VEGGIES
SWISS CHEESE, LETTUCE HOUSE SALAD
DESSERT BREAD STICKS
BROWNIES DESSERT
CHOCOLATE CHIP COOKIES
TEA, LEMONADE AND WATER WILL BE YOUR CHOICE OF BEVERAGES.
You are welcome to bring a brown bag lunch as well however,
I highly encourage you to purchase a meal because there will be engagement with groups during lunch time. look forward to seeing you!