---
Buy tickets
Ticket Type
Price
Fee
Quantity
---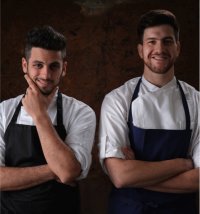 Lifelong friends Omer and Daniel grew up together in Israel's Jezreel Valley. Opening their own place together has always been the dream.
Between them the pair have risen through the ranks of acclaimed kitchens like The Barbary and River Café (London), Pauly Saal (Berlin) and L28 (Tel Aviv). Now they're busy creating something of their own that will weave together Israeli and Middle Eastern influences and showcases their love of fresh, colourful ingredients and bold flavours. Think 'Cured Mackerel Salad with Horseradish Aioli, Shallots and Sumak' and 'Sea Bass in Tomato and Green Chilli Marduma Sauce'.
Their food is designed to be shared between friends and mopped up with pillowy flatbreads straight from the oven. If that doesn't brighten up those cold wintry London evenings, we don't know what will.