---
Buy tickets
Ticket Type
Price
Fee
Quantity
---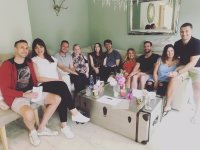 You are placing your £50 deposit to attend Abby's group Hypnobirthing course held at her house in Mirfield starting on Saturday 4th April for three consecutive Saturdays. The remaining £145 can be paid at the start of the course or before if you prefer.
Please book one place per couple.
Please note deposits are non refundable. Please read my full terms and conditions on my website before booking.