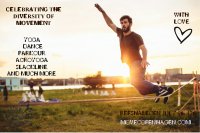 WELCOME TO A WORLD OF MOVEMENT
*** SECOND EARLY BIRD TICKETS AVAILABLE FROM 1st April at 12:01 PM ***
At Move Copenhagen we rethink what it means to move. We move, play, explore and inspire to rebuild the very idea of movement.

Get an idea of what to expect in this video 'A DAY AT MOVE2017'

Ticket price:
Early Bird Ticket                                                        DKK1095 / €150
Early Bird Ticket + Meal Ticket                               DKK1690 / €230
Community Builder                                                 DKK1000 / €135
Community Builder + Meal Ticket                         DKK1600 / €215
Second Early Bird                                                     DKK1295 / €175
Second Early Bird + Meal Ticket                            DKK1890 / €255
Festival Ticket                                                           DKK1595 / €215
Festival Ticket + Meal Ticket                                  DKK2190 / €295

Your festival tickets includes:
– 4 days of fun & fascination July 9th-12th
– Access to all workshops, activities, performances & live music events
– Free camping on site during the festival
Add a meal ticket to your festival experience!
Our meal ticket offers a seasonal and local plant-based menu and takes sustainability one step further.

Program
In 2020 we offer a 4-day festival with the opportunity to choose between 100+ unique workshops, as well as a full evening program. There will be workshops for all levels – beginners, intermediate and advanced movers.
We offer workshop within these movement forms
      SLACKLINE e.g.* 'Slackline yoga fundamentals' & ' Your first trick'
      YOGA e.g. 'Living yolates with live drummes' & ' Power & Alignment'
      ACROYOGA e.g. 'Foot to hand' & 'Hybrid acroyoga'
      DANCE e.g. 'Groove dance' & 'Contact impro'
      PARKOUR e.g. 'Dancing with walls' & 'Moving through fear' 
      EXPLORE e.g. 'Sup board' & 'Kalarippayat (Kalari)'
      NATURAL MOVEMENT e.g. 'Stillness' & 'Complex yourself'
      RESTORE e.g. 'Breathwork' & 'Meditation'

More info and program - www.movecopenhagen.com

Buy your ticket now and join us for this festival of movement!