---
Buy tickets
Ticket Type
Price
Fee
Quantity
---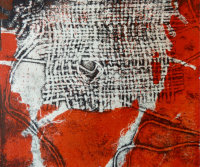 Tutors: Susan Wright and Annie Fforde
Part of the INKERWOVEN Project, this workshop combines monoprinting with surface pattern overlay.
During the sessions participants will produce a series of monoprints using Heritage textiles as printing material. Some inspiration will be drawn from the woven textiles produced in Halifax and Bradford particularly those associated with the Textile Archive.
Monoprints will be produced by hand and by using an etching press. Prints will be produced in colour and will be enhanced by the use of trace surface pattern printing. During the second session, completed prints will be collated as simple pattern books which participants will be able to take home.
INKERWOVEN is an Art Council project led by Inkers, a group of independent experienced printmakers based in West Yorkshire whose aim is to encourage and promote printmaking as an artistic expression through teaching workshops and curating exhibitions.
The group is inspired by the extensive Textile Archive at Bradford College and the workshops will lead to a series of small temporary exhibitions, culminating in a major printmaking related exhibition at the Dyhouse Gallery in Bradford in late 2020.
Art Council funding, and support from our workshop venues covers all artist fees and materials costs, so that INKERWOVEN workshops can be offered to the public at just a nominal fee.