---
Buy tickets
Ticket Type
Price
Fee
Quantity
---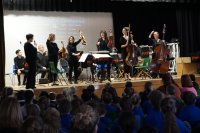 Kidenza, classical concerts for kids, is coming to Carden Primary school on 4th June performing some of this years BBC Ten Pieces.
Kidenza have been Champions for the BBC Ten Pieces since 2015, performing to over 40,000 children in the South east of England. Their concerts cover EVERY aspect of the National Curriculum for Music! There is no better way to introduce children to live classical music than to attend one of these concerts. They are fun, cheeky, fast-moving, educational and interactive.
"It completely surpassed my expectations and was lovely to see the children inspired and engaged in classical music"
Each concert will last approximately 60 - 70 minutes and is suitable for EYFS, KS1 and KS2. *Please note, pupils will be sitting on the floor at this venue.