---
Buy tickets
Ticket Type
Price
Fee
Quantity
---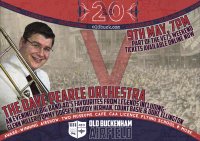 75 years on, we're celebrating VE Day at one of the places which made victory possible.
We're turning the clock back three quarters of a century, inviting living history and military re-enactors with WWII displays to join in, along with pre 1945 classic car owners. Over the fence on the airfield we're inviting all vintage aircraft owners to fly in and all pre '45 aircraft based at the airfield will be out on display. 

The highlight of the weekend will be on Saturday night in the Blister Hangar. The Dave Pearce Orchestra will  perform a one-night-only concert in our WWII Blister Hangar. There may well also be a specialvisit in the evening from a WWII icon or two in the skies overhead. 
Military Displays and Classic Car owners (pre '45 of course) can book in now using the form at oldbuck.com
Kids under 12 go FREE at all our events.