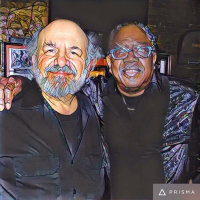 Salt & Pepper, a duo comprised of Tony Nardi (Hammond B-3, piano, vocals) and Eddie Mobley (percussion, vocals) will be playing at Society Hall in Alamosa, Colorado on Friday, Feb. 28.
Nardi and Mobley first met and recorded together as a group while serving in the Air Force and stationed in Thailand in 1969 during the Vietnam War. Although they played together whenever possible over the years, Eddie decided to make a permanent move to join musical forces again a few years ago after their original recording made a comeback in the Northern Soul Dance Clubs in Europe and was reissued on Kent Records as a new 45 and on a compilation CD. In December 2012, Salt & Pepper was the subject of an article in the German pop-culture magazine, "get happy!?", and again in May of this year in the EASEY PBS Magazine in Australia.
​In the summer of 2012, they spent a month in Australia where Nardi conducted workshops for Hammond of Australia. Mobley came along and became part of the "Live at Bernie's" recorded concert series. They were interviewed by Samantha Goldie for PBS Radio in Melbourne.
In January 2013, they represented their hometown of Hot Springs, Arkansas at the 29th International Blues Challenge in Memphis, Tennessee. Salt & Pepper were named finalist in the solo-duo category after defeating rivals from around the globe in quarter- and semi-finals competitions. By advancing to the finals they had the honor of playing at the famed Orpheum Theatre in Memphis in front of thousands of blues fans.
​They play regularly in Arkansas, Louisiana, New Mexico, and Colorado. The Salt & Pepper Band has played the Summerfest on the Rio for the last three years, and perform on regular basis at the Historic Taos Inn in Taos New Mexico.
David Hughes of Nightflying Magazine noted "Watching Salt & Pepper perform, it's obvious that Mobley's assumption about the duo being destined to be together is right on. They blend together Motown, blues, and jazz and mix it with their own touches including their own very distinct voices, to create something that has both the past and present in it." No one enjoys the true joy of music more than these two veterans of the music industry.