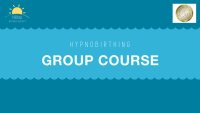 This is the full HypnoBirthing course held over two Saturdays at my home near Saltash - only 10 minutes from Plymouth. This course is for those short on time or who would like a more intensive experience. The class is spread over two Saturdays, starts at 10:30am and finishes at 4:30pm with two 15 minute breaks and half an hour for lunch. There'll be homework in between sessions to back up the learning you've done in class and you'll be given all the reading and information you need for your birth preparation.

You'll pack in a huge amount of learning and relaxation as well as plenty of tea, coffee, flapjacks (and other refreshments), breaks and giggles. In addition to everything covered in class you'll receive a folder packed full of notes, MP3's to listen to at home and support outside of class whenever you need it.

When to attend: I recommend that couples attend the course any time from the 20th week of pregnancy. The earlier you start, the more time you have to practice the techniques however I've worked with a number of ladies in later pregnancy (one at 40 weeks!) and all have found the course beneficial.
If you're more than 36 weeks or would prefer it, I offer one-to-one courses at times to suit you and your birth partner. I also run antenatal workshops which are also great as a hypnobirthing refresher course and can be put together to suit your needs. Discounted hypnotherapy sessions are also available for those who attend the full hypnobirthing course.
What if my partner is unsure about attending a hypnobirthing course?
It's totally understandable that they are unsure or even a little apprehensive about joining a course. The course is often different to expectations – in a positive way! It's delivered in a down to earth, practical way and is also backed up by science – it's great to see the 'lightbulb moment' as it all makes sense and falls into place during the first session. A calm, confident and knowledgeable birth partner can make a huge difference to your birth experience – below are some testimonials that partners may find inspiring!
"When Sam and I found out we were pregnant we chose to explore the HypnoBirthing route and found that it was exactly what we needed to help us in pregnancy and to prepare for the birth of our son.
Unfortunately the classes we signed up to fell through and we thought we'd miss out on this incredible and beautiful approach to birthing but thankfully Laura stepped in and took us on at short notice and on the weekends when she could be enjoying her own family. The course has been nothing short of brilliant and I have been enlightened in so many ways that I am now thoroughly looking forwards to our birth and completely confident I can support my partner.
Laura has been amazing from start to finish and I cannot speak highly enough of her. Kind, Patient, Happy to help and so much more.
I'm excited and happy to have had Laura with us through this experience and will miss our sessions and Laura's experience, knowledge and friendship.
If you are looking for HypnoBirthing look no further. Laura is fantastic."
Tom, 2019
"My partner and I attended hypnobirthing sessions with Laura, these really helped to build our confidence and reduce our anxieties prior to the birth of our daughter.
Laura's sessions were calm, welcoming and the salted caramel flapjacks weren't bad either!
I would certainly.recommend Hilltop Hypnotherapy if you have any interest in trying hypnobirthing."
Ian, 2020

For more information on HypnoBirthing courses take a look at my website -

https://hilltophypnotherapy.com/hypnobirthing and https://hilltophypnotherapy.com/hypnobirthing-courses-in-saltash-and-tavistock

Spaces are limited to ensure a good quality so it's recommended to book quickly – it's a £50 deposit to secure your space with the balance of £170 due before our first session.