---
BOOK TICKETS HERE
Ticket Type
Price
Fee
Quantity
---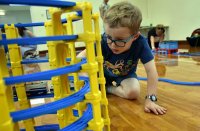 We have built an epic train track ready for your little ones to play on and to complete the #epicplaytime experience we also have great car tracks and hundreds of toy dinosaurs to play with!
Exclusive Hire
You can also now exclusively hire this #epicplaytime experience just for you and your guests with a hire sessions. Check out what exclusive hire is and how you can get it for your birthday, by clicking below  


🚂🚂🚂🚂🚂🚂🚂🚂🚂🚂🚂🚂
Premium Trains
We want to offer the children something extra for their playtime experience! For an extra £5 your child will get access (per play session) to our bullet trains, Disney trains, Marvel trains and more! This can be purchased on the day or by clicking on the black button 👇below👇
🚂🚂🚂🚂🚂🚂🚂🚂🚂🚂🚂🚂
Buy-a-train
Track Party will have an enormous selection of trains available for you to purchase on the day. If you are looking for a particular train, please do get in touch beforehand.  We can take cash and card payments on the day aswell!