---
Buy tickets for your Backstage Of Reality
Ticket Type
Price
Fee
Quantity
---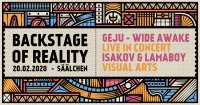 IN CONCERT
Geju - live debut
WIDE AWAKE - live
VISUAL ART
Isakov & Lamaboy

Please be welcomed to an enchanted evening, as you make your way into the BACKSTAGE OF REALITY. An experience that touches each one of your senses.

The second night of our concert series will take you into an offset realm once again, a place to feel connected, a place to let yourself dissolve in the intoxicating music by GEJU and WIDE AWAKE. We're hosting visuals by ISAKOV und LAMABOY - who have created animated artwork that might fool your eyes just a little.

Let the evening put a spell on you as we dance and celebrate together. There will be fragrances drifting through the air - let them open your heart and send you home on a higher frequency!