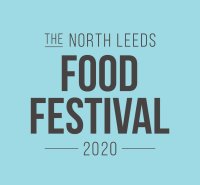 *Please note, this event was postponed from 2020, to the new dates in 2021.
The North Leeds Food Festival is returning to Roundhay Park in 2021! With more to offer than ever, we have not one, but TWO events this year. 

We're proud to bring you The North Leeds Food Festival: Spring Edition on May 8th-9th, 2021.

In May 2021 , we're back with more mouth-watering International Cuisines, Street Food, Fine Artisan Produce, Superb Live Music & Live Entertainment. 
We also return with the exceedingly popular LIVE COOKERY THEATRE hosted by Leeds Cookery School. We had a stormer of a line up last year, and 2021 promises to follow suit.
Hungry for more? Join thousands of Foodies in Roundhay Park this year!
_____________________________________
FURTHER DETAILS
International Street Food - Take a walk through the lush green fields of Roundhay Park and enjoy the vast aromas tempting you into tastes from around the world.  Pick from the best Street Food traders in the UK.
Tuck into a freshly prepared Paella or Pad Thai, bursting with flavour. Taste the gooey goodness of Artisan Melted Cheese, or nibble on Pomegranate topped Halloumi Fries.
Fancy something sweet? Pick up Spanish Churros, smothered in Belgian Chocolate. Choose food from Japan, Italy, Peru, The U.S, or anywhere between! With over 31 different cuisines to choose from, you'll be coming back for more.
Vegan? Almost all of the exhibitors will have a vegan special on to tempt your tastebuds.
Live Chef Demo's – In partnership with Leeds Cookery School, we'll be hosting a Live Cookery Theatre for all three days of the festival. Watch the region's best chefs cook up a storm on stage.
Independent Drink - Lounge on a colourful striped deck chair in the sun. Take a sip on a Cold Beer, a glass of Champagne or a Cocktail loaded with fresh Strawberries. With 8 Independent Bars at the festival, we have you covered - whatever your tipple.
Want something non-alcoholic? No problem, we have a specialist bar squeezing Juices and Smoothies on the spot for you.
Fine Artisan Markets - Feel your senses heighten as you walk through the colours, tastes and smells of the giant Artisan Produce Markets. Tuck into a gooey Artisan Brownie. Pick up gourmet Fudge or luxury Cured Meats. Lover of cheese? We've loads of it. And from some of the best producers in the UK.
Want something for later? We have everything from handmade Marshmallows, to Independent Wines and Gins. Specially assembled for the festival, you can take your pick from the finest artisan brands in the UK.
Live Music - Listen to the sounds of award-winning Jazz, Soul and Pop. Dance to the Unique sounds of the Washboard Resonators on stage at the festival. As always, compering, welcoming you to the festival and playing throughout will be the sounds of Will Forrester on the Sax.
Live Entertainment - Stroll across the bustling site and you will come to the Entertainment Arena. Here you will witness the mind-boggling talents of Matthew J & friends.
Children's Entertainment - See the excitement on their faces as they watch the Magic Matt show taking place each day. Take part in the free kids quiz and fact-hunt all around the site. Be sure to swing by the Traditional Fun Fair and Inflatable Land on your way. We've heaps lined up for the kids – see our website for more info.
Joining us this year?



Supporting Mental Health – As always, our charity partner at the festival is Leeds Mind. We will be collecting donations through optional donations on ticket sales and many fun activities. We have raised over £18,125. Let's try break the record this year.
Wellbeing – Take a look at the dedicated Wellbeing stalls at the festival this year. Here you will find everything from Independent Cosmetics, to Yoga Talks or healthy living interactions.
Art – As you walk through the festival site, admire the artwork on display throughout the festival. Over the past five years, we have been building up this collection, working with talented local artists and Leeds Arts University.


_____________________________________

Over 31 cuisines | 150+ Exhibitors and Performers | 8 Independent Bars | 2 Giant Artisan Produce Markets | Street Food | Dessert Stations | Live Entertainment | 26+ Live Performers | FREE Kids Activities and Kids Packs | FREE Deckchairs and Seating (no cost hire) | FREE Festival Programmes | Dedicated Wellbeing Area | Traditional Fun Fair | Inflatable Land | Exclusive Art Displays
When: May 8-9, 2021
Where: Soldiers Field, Roundhay Park
Full Live Music & Chef Demo line up to be announced.
If you haven't guessed it, you're in for a good weekend and we're bigger than ever.
Join the celebration in Roundhay Park this summer.