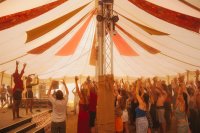 ***IMPORTANT INFORMATION***
We have sadly made the decision to cancel Brainchild Festival 2020 due to the effects of the Coronavirus pandemic. All tickets purchased to date will remain valid for our next festival (July 9-11 2021). We're leaving tickets on sale until the 18th May as pre-sale for 2021, so if you want to come then please book now. It will be a huge help to us starting next year, plus, there's a benefit that they're at 2020's prices. Anybody who has a ticket and wants a refund can request one here.
Big love,
Brainchild HQ
---------------------------------
Brainchild Festival
For three days in the woods and fields of East Sussex, we'll bring together 3000 people to share their talents and ideas: to dance, discover and make friends. Seven stages will come to life with a programme of DJ sets, discussions, jam sessions, film screenings, theatre shows, poems, open-mics, workshops and art installations from hundreds of the most inspiring artists on our radar. Artists who contributed in 2019 include: Steam Down, Alice Phoebe Lou, Travis Alabanza, PECS Drag Kings, JayJay Revlon, Maxwell Owin, Sherelle & dozens more.
Brainchild has remained sponsor-free and grown totally organically over the past 8 years. We have fought hard to keep it alive because we believe in the power of these gatherings and these spaces to celebrate and push forward culture, conversation and community - and believe these spaces are most powerful when they're truly independent.
Our Site | Manifesto | Facebook | Instagram | Twitter
Please see our Terms & Conditions.
Please note, Brainchild Festival is an 18+ event and ID checks will be made at the entrance.