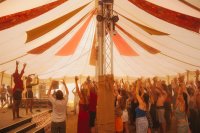 Brainchild Festival 2020 🌞
We started Brainchild in our first year of uni hoping to show that any idea, no matter how wild, can take off when enough like-minded people want it to. Seven festivals later, thanks to the huge generosity and energy of artists and friends, we're very excited to announce our 2020 festival!
For three days in the woods and fields of East Sussex, we'll bring together 3,500 people to share their talents and ideas: to dance, discover and make friends. Seven stages will come to life with a programme of DJ sets, discussions, jam sessions, film screenings, theatre shows, poems, open-mics, workshops and art installations from hundreds of the most inspiring artists on our radar. Artists who contributed in 2019 include: Steam Down, Alice Phoebe Lou, Travis Alabanza, PECS Drag Kings, JayJay Revlon, Maxwell Owin, Sherelle & dozens more. 
Brainchild has remained sponsor-free and grown totally organically over the past 8 years. We have fought hard to keep it alive because we believe in the power of these gatherings and these spaces to celebrate and push forward culture, conversation and community - and believe these spaces are most powerful when they're truly independent. Making the festival has never felt more important than it does right, and we are pumped to make Brainchild 2020 happen with you all. 
Lineup Announcements coming from the end of March. ⁠Applications to perform will be open soon. If you want to make an installation with us, please fill out this proposal form by the 17th Feb. You can always check our Get Involved page for other opportunities to get involved. 


All our love, 
Brainchild HQ 

Our Site | Manifesto | Facebook | Instagram | Twitter 
Please see our Terms & Conditions. 
Please note, Brainchild Festival is an 18+ event and ID checks will be made at the entrance.