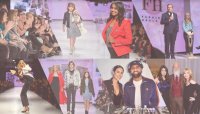 Early Bird Ticket Purchases - Promotional Draw

If you purchase a ticket between 10:00 am EST on February 28th, 2020, and April 28th, 2020, at 11:59 pm EST, you will be eligible to win a one night stay at Fairmont Royal York in a Luxury Room (Value $550) for use the night of the event.*
The Early Bird winner will be chosen by random draw on April 29th, 2020, and will be notified by email on April 30th, 2020. A skill-testing question will be required.

*The stay is only valid for use at Fairmont Royal York on Wednesday, September 30th, 2020. The winner will be required to present a credit card upon arrival and will be responsible for any incidental costs to the room. This prize has no cash value and is not transferable. One entry per ticket bought-multiple entries are permitted*

6th ANNUAL FASHION HEALS FOR SICKKIDS FASHION SHOW AND AFTER PARTY
We are excited to host the 6th annual edition of Fashion Heals for SickKids on Wednesday, September 30th, at the prestigious Fairmont Royal York Hotel!

It's a party for a cause with fine food and drink and a one-of-a-kind fashion show. Fashion Heals for SickKids is a night to remember.
Very little can compare to how you'll feel watching SickKids patients – children and adults alike – and their devoted doctors and clinicians rock the runway. Proceeds from this year's event will support groundbreaking research initiatives surrounding Paediatric Cancer Treatment and Care, help meet the ever-increasing needs for mental health and wellness programs at the SickKids Centre for Community Mental Health (CCMH), and contribute to the SickKids vs. campaign to build a new hospital.
This years event will feature:
Runway fashion show featuring models who are SickKids patients - both past and present - as well as SickKids doctors, nurses and clinicians;

Runway curated by Toronto's elite fashion stylists;

Mix & Mingle with Fashion Heals models at the festive after party

Catering and bar service (available prior to, and following, the runway show)
Together we'll raise $350,000, celebrate remarkable advancements in paediatric treatment and care, and bear witness to the profound impact your very dollars are having on the lives of incredibly courageous patients and their families!
Many thanks to our Host Sponsor, The Fairmont Royal York Hotel
For additional information, please visit our website at www.fashionheals4sickkids.com

EVENT INFORMATION:

6:45 - Doors open for general admission registration
7:00 -  Pre-show bar service and catering for all guests 100 Front Street West, Toronto M5J 1E3
7:30 - Fashion show will start promptly
After party and fundraiser following Fashion Show.
**We welcome our VIP and Sponsors to an early cocktail reception and photo Op at 6:15pm. 
VENUE INFORMATION:

Location 
Fairmont Royal York Hotel
100 Front Street West, Toronto M5J 1E3
*Fashion Heals will be held in the Concert Hall on the Convention Floor of the hotel.

Valet Parking
Valet parking is available at the east doors of the hotel, off of Front Street
- Overnight rate for registered guests: $59
- Day parking for up to 3 hours: $13 per hour
- Event parking: $42
View the map of parking garages here: https://www.fairmont.com/royal...


Parking
There are several parking lots near the hotel. Please note that the Fairmont Royal York does not control the pricing at the parking garage (79/66 Wellington Street), and pricing is subject to change without notice.
Public Transportation:
Union Station has direct access to the Royal York Hotel via the PATH. 
*Fees are not included in your ticket price.

*All prices subject to change without notice
*We encourage everyone, when possible, to use public transportation

What others say about Fashion Heals:

"Classy event with every attention to detail. An enjoyable and vibrant night, marrying a great cause with an opportunity to meet the very kids and teens who need our help and have benefited from the foundation's philanthropy."
~ Peter Carayiannis, CEO Conduit Law LLP
"The Fashion Heals Innovation Grant will enable a member of our team, whether clinician, scientist, or nurse, to pursue a new idea that otherwise they could not explore due to lack of funding. Your support will make an impact in the lives of children who suffer from cancer, not only in Toronto and across Canada, but around the world."
~ Dr. Jim Whitlock, Director Garron Family Cancer Centre at the Hospital for Sick Children.
"Being a Fashion Heals model was a lifechanging experience! I witnessed first hand the amazing support of SickKids Hospital".
~ SickKids Patient and Fashion Heals Model, 17 years old.
All tickets are non-refundable. In the case that we are required, due to circumstances beyond our control, to cancel the 2020 edition of Fashion Heals for SickKids, we will issue a full refund. In the case of postponement, refund requests need to be submitted, in writing via email, to us at info@fashionheals4sickkids.com within ten days of the announcement. We will refund tickets within 4 weeks of cancellation. If an email is not received, we assume that the ticket holder will be attending Fashion Heals on the new date. Refund requests must include the ticket holder's name, number of tickets, and ticket order number.