---
Sold out
Ticket Type
Price
Fee
Quantity
---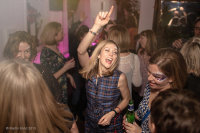 Start early, finish early. Simples.
We're back - 2020 watch out! ! Get your dancing shoes ready, dust off your sparkles  - and get your ticket to the best party in town. Top tunes to have you dancing all night - well, until 11.30 pm. Classy cocktails and tasty tapas too. We can't wait to see you on the dancefloor.
Please visit our website for more details. If you're a Facebook user, you can find our Page by clicking right here.
Please note: You will not receive a ticket in the post – we will have your names on the door.
If you would like to eat at La Raza on an Early Night Club evening, please note that you will need to purchase your ENC ticket before booking your table (call La Raza direct for a table on 01223 464 550). And please remember that unfortunately all tickets are non-refundable, but you are raising money for local charities.
See you on the dance floor!
ENC x