---
Buy tickets
Ticket Type
Price
Fee
Quantity
---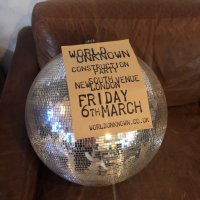 We're back in South London for a special one-off party.
A very good friend is building a new venue so we're getting stuck in with a construction party to help get it finished on time.
Page 14 of the party promo cliché handbook compels us to inform you that
'Although the party is still a couple of weeks away tickets are flying out so act sharp if you're coming, especially as this will be the only WU in this new space and most likely our only South London party this year'
Even though we're using a different venue for this one we'll have two rooms as usual and the DJs are;
On the main floor
Andy Blake b2b Cal Swingler
Cosmic Sanj b2b Amy Alsop
In the Ambient Wuumb
Miro Sundaymusiq
Scott Bowley
It's around half the size of our new regular spot and our increasingly rare South London parties are always very popular so please be quick getting tickets. They're £10 and £15 and available here

More info will follow soon. Check back here and the Facebok event for updates
https://www.facebook.com/event...