---
Buy tickets
Ticket Type
Price
Fee
Quantity
---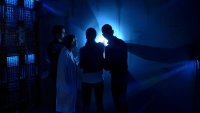 With two new offerings and a new East London venue, Modern Fables is an intriguing day out for escape room enthusiasts. Last year we thoroughly enjoyed their first game and are excited to return. Join us as we play two games back-to-back, here's the blurb for each:
The Oracles
IF YOU KNEW THE FUTURE WOULD YOU BE BRAVE ENOUGH TO ESCAPE IT? A strange investigation into the world of conspiracy theories and the fate of humankind.
Hypersomnia
IDENTITY CRISIS AND INTER-DIMENSIONAL SABOTAGE - WHAT COULD BE SIMPLER? An 80s-tinged sci-fi involving travel to parallel universes where you experience different versions of yourself. The Guardians question the ethics of this. What side are you on?
Pricing
Day Pass: £45 per person (VAT incl)

Includes 2 x Standard Tickets to Modern Fables' games The Oracles and Hypersomnia