---
Buy tickets
Ticket Type
Price
Fee
Quantity
---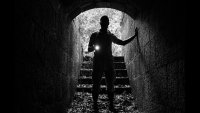 Join us as Unboxd heads East to visit the Royal Victoria Docks for a double-bill afternoon of time-travelling adventure.
From the Operator
Timelock
The year is 1921. World-famous scientist and Time Traveler Professor Samuel Pottenger has just been kidnapped by an assailant that we believe is working for his rival, Albert Scabworthy, in an effort to steal his secrets. Alas, as a member of Pottenger's research team, you have been locked inside his personal study by the assailant and are now in a race against time to escape before the study's self destruct protocol takes affect! The good Professor may have left you clues to help in your efforts, but it will take the sharpest minds to uncover them. Will you vault these vexations or be vanquished?
Parallax
The Black Scarab Syndicate and their criminal leader Albert Scabworthy, have successfully kidnapped the time travelling Professor Pottenger, in a move to steal his secrets. We have tracked one of the Syndicate's operatives to an underground bunker and it is up to you and your team of detectives to search for any clues that may lead us to finding the Professor before it is too late! But be warned, the Black Scarab use mind control to make their members more dangerous. Their operative may not be too happy with you snooping around his lair...Will you foil these fiends or fail?
Pricing
Day Pass: £55 per person (VAT incl.)

<< 10% off retail rate