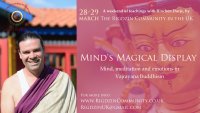 Tibetan mystics have for centuries been turning their minds inwards to gaze into the nature of consciousness and reality. They have ventured into subtle realms of experiences beyond our ordinary perception, and left us with a rich legacy of elaborate practices that can lead to profound insight when followed with the right guidance and motivation.

Vajrayana Buddhism is known as the path of transformation, and the most esoteric branch of Tibetan Buddhism. It has a great deal to teach us about our inner life and the outer world, about the nature of emotions and how to use them as gateways into our true nature, and about cultivating such essential qualities as wisdom, stability, compassion, joy and expansiveness.

In order to share some of the magic of this path with some friends with an interest in the Dharma and the exploration of consciousness, I have invited Rinchen Dorje, a dear sangha friend of mine, a yogi and a teacher to London for a second weekend of dharma teachings and heart connection. We will be opening up a space for him to share his experience of the Dharma, and for us all to enquire into the nature of mind, emotions and meditation(s). The event will very much be shaped by the questions and experiences that we will bring.

Draft schedule
Saturday: 10:30am - 5pm (tea & snacks provided) 
Sunday: 2pm - 6pm
The exact address (near Finsbury Park, in North London N4) will be sent by email after booking.


About the teacher
Rinchen Dorje is keen for people to understand their natural state, and learn how to abide in the recognition of their true nature. He is dedicated to supporting people gain confidence in this practice, in a way that makes their present lives more meaningful but also prepares them for the time of death. This, in his view, is a good motivation for trying to understand different states of minds, meditation, and the nature of reality.

"If we can have an understanding of, and confidence in who and what we are, it is useful when we are living, but even more so when we pass away. It will give us confidence."

Rinchen Dorje has been following the Buddhist path since age twelve, when he decided to do his first retreat. Since then, he has received numerous teachings and initiations from over twenty masters from all four schools of Tibetan Buddhism. He has followed a gradual path, starting from the Sutras, through to Mahamudra, Vajrayana, and Dzogchen.

In 2004, he received the ngakpa vows, and has been focusing on tantric practices and the Dudjom Tersar lineage ever since, first under the close guidance of Lopon Ogyan Tanzin Rinpoche and now as a heart disciple of his root lama Rigdzin Namkha Gyatso Rinpoche.
​
Rinchen Dorje combines a thorough knowledge of the Buddhist path with a deep experience of the practice, having attended a 5-year Masters program in Buddhist Studies, spent more than a year and a half in closed retreat, and thousands of hours sitting in practice.

He is the president of the french branch of the association, Rigdzin Drolo Ling, and the resident teacher there. As a Westerner, Rinchen Dorje is particularly interested in creating a bridge between people here in Europe, and the profound dharma that he received from his Tibetan Buddhist masters.

For a more detailed bio, please visit: https://www.rigdzincommunity.co.uk/uk-teachers