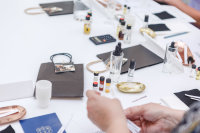 Why not design a Natural, Cruelty Free fragrance with us at our upcoming Sensory Club! 
How does it work?
Come on a sensory journey and discover, play and create with us for 2 hours. You'll leave with your luxury crafted scent infused with flower essences, uniquely you.
We specialises in designing natural, cruelty-free fragrance for brands, people and places who share a passion for scents ability to inspire, connect and be wholly life-enhancing. We envision a world where everybody feels their best - physically, emotionally, spiritually and psychologically. We use fragrance to anchor in states of play, concentration, to uplift us, support us and feel beautiful. 
Discover
Come explore your senses. We say no to parabens, glycols, petrochemicals or synthetics so you can rest assured you'll have access to a Natural Scent bar which has been carefully curated. You'll smell over 50 naturally derived top and middle notes, the highest quality essential oils, resins, isolates and compounded natural isolates in the world. We love Asia-Pacific Natives, so expect to learn more about your local plant-life too. 
We encourage you to set your intention around how you want to use your fragrance but you're free as a bird to pick and choose what you like. You then select and design a fragrance that suits your individual needs. We also have a range of flower essences to add additional emotional support. The bioenergetic imprint of flower essences raises your consciousness and vibration. This may or may not be felt the first time you experience them. We'd love to share and experiment with you!
Play
Enjoy time learning a blending technique and learning how to critique your own designs. This is the part that's really different to other workshops you might attend, you have complete creative freedom. Tap into your inner child and connect with like-minded people over Scent Soul and Science.
Create
This part is serious fun, as you need to concentrate and figure out how to scale your design. Expect to act mindfully here and forget about all your worries as you focus on your provided perfumery equipment and bottling your design. We play music to help you as you bottle. You take home 12mL in fragrance.
Who is your host?
Aviva Van Den Heever, trained by Perfume Playground™ founder Samantha Copland and certified in Heart2Shine Flower Essences.  We love to explore scent design and discover hero botanicals with you. 

What you get:
Creative guidance from a scent expert trained by Samantha Copland, founder of Perfume Playground 
Access to a scent lab of over 50 Natural Botanicals- the first-of-its-kind in NZ 
All the tools & materials you need to create your very own unique perfume
You select 3 scent vials (12ml) of your favourite essences and take home a roll-on 10mL Eau de Toilette
What people are saying: 
"X Factor for inspiring, uplifting and unique personalised learning!!! Simply sensational!" Bren 
"So well done - what an amazing sensory journey. Thank you so much." Maddy Disberry 
"Loved how it was broken down into stages, making it very clear to follow instructions. The equation with blending was super helpful." Kendall McKinnon 
"Very inspiring and therapeutic, something not to be rushed" Julia Gladwell 
"This class was amazing and very informative. Thank you" Nastassja Carr
Check out more at www.perfumeplayground.co. We also design fragrance for brands and host private experiences with brands like Lululemon, Air New Zealand, Ecoya and Auckland Art Gallery. Come join our club!