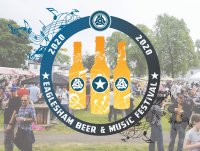 Having been crowned Scotland's BEST FOOD AND DRINK EVENT for 2019, the Eaglesham Beer Fest is back - and we're hoping to make it better than ever 🍺
With a view to continue improving, changing, adapting, and offering more and more value for our loyal supporters, we will be running our usual fantastic event on SATURDAY, MAY 30, packed with some of Scotland's best brewers and street food vendors, with multiple stages for live music, showcasing some of Scotland's best up and coming talent 🎼🎺🎷🎤 

That includes Connor Fyfe, Fauves, Megan D, Sara 'N' Junbug, Beerjacket, Dogtooth band, Kate McCabe, The Shiverin' Sheiks, Papa Shandy & the Drams, Cara Rose and S.H.E.B,

Don't forget our legendary DJ stage headed up by Let's Get Eclectic 🎧. And we do it with support from our event partners Drygate 🍺

The Saturday will be precluded by two incredible LIVE GIGS at the Eglinton Arms Hotel 🎼🎺🎷🎤 The first of which sees one of Scotland's most celebrated singer/songwriters take centrestage right here in our beautiful village.
An Alba Cola performance, we are delighted to welcome Ross Wilson – better known as Blue Rose Code – to the Eglinton Arms Hotel on THURSDAY, MAY 28. Acclaimed by AmericanaUK as "one of the greatest live acts around right now," the Edinburgh-born singer writes straight from, and to, the heart.
Building on the huge acclaim for 2017's fourth album 'The Water of Leith', Ross' songs are variously painted with the vibrant colours of folk, Americana, jazz, country, soul and pop; an eclecticism that has become a hallmark of his work and which has seen him compared to JOHN MARTYN, VAN MORRISON and TOM WAITS amongst others.
To experience Ross live is to experience true Scottish musical class and we are honoured to welcome him to Eaglesham.
He will be followed on FRIDAY, MAY 29 by Papa Shandy & the Drams, with support from singer songwriter, Andy Bargh. Those in attendance at last year's Friday night spectacular will remember the band for having the Jam Tent rocking.
Expect a fantastic hooley of traditional Scottish music and fantastic cover songs, with a nod to Irish, Americana and country 🎼🎺🎷🎤