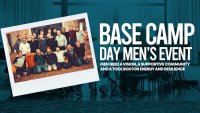 Men need a vision, a supportive community and a tool box for energy and resilience…

Date- 18th July 2020
Time- 10am-5.30pm
Location- Dublin (Exact Venue TBC)
Price- €120 Early Bird 

November of this year I ran my first 3 day men's retreat and it proved some of the most fulfilling and energising work I've done to date. I'd thought of running men's specific events for a long time but had maybe let fear or doubt hold me back.
The minute attendees arrived for the retreat this past November I knew it would be something special and that personal development events specifically for men were something I'd be putting more attention on going forward.
With that in mind I'll be running my second full day workshop the the 18th of July 2020 in Dublin and would love to see you there….. (Our first event for March 2020 completely sold out)

On the day we'll dive deep on goal setting, resilience, mental fitness, energy management and more. You'll connect with like minded men, pick up new strategies, tools, ideas and insights and will leave with a practical plan on how to ensure the changes you hope to make 'stick'.

I've attended countless seminars, retreats and courses over the last ten years and picked up an abundance of tools to support me in dealing with adversity and putting in place the consistent daily habits that bring about success, happiness, fulfilment and confidence in my life.
I've taken the best of what I've learnt and put it together as an actionable plan for men in business and life.

What type of man is 'Basecamp' for?
Base Camp is a day for men committed to personal and professional growth. It is for those seeking high performance in all areas of life and for those wishing to be amongst other ambitious high performers.

Whether you are feeling your best and looking for 1% gains to peak performance, or struggling with a little over whelm or lack of clarity this day will offer the space, environment, strategies and facilitation to give you your 'next steps'.

On the day we'll cover….
-How to question and challenge your limiting beliefs and stories
-Active recovery and meditation in the real world
-Dealing with stress and overwhelm
-Moving past feelings of being 'stuck' or lost
-Planning your week for maximum productivity
-Improving communication with yourself and others
-Becoming consistent with empowering habits
-Dealing with self doubt and imposter syndrome

Five Reasons To Attend
-Community
You'll connect with a room full of men also on a path of personal and professional development. A supportive peer group is an essential part of any transformation and is often the missing link for us men. As we get older our social circles tend to narrow and we get caught in auto-pilot within our social circles.
-Practical Tool Box
Stress, struggle and challenge are inevitable parts of life and in fact essential parts of growth and development. For that reason we shouldn't look to avoid challenge or stress but instead ensure we have the tools in place to manage our energy, our feelings and our internal chatter.
-Follow Up Action Plan
As much as you'll get from the day itself my hope is always that you'll leave with a practical plan of implementation going forward. True change comes not just from taking on new information but from applying that information. Your 28 day plan leaving the room will make long term change sustainable, manageable and enjoyable.
-New Perspectives
Time spent around new people, engaged in new conversation will open the possibility of perspective- new ways of seeing opportunities and obstacles. In a fast paced world we can become attached to our way of thinking. This day will allow you to change the way you look at things.
-Space.
In a busy world we rarely get space, a chance to step back, to slow down with the intention of speeding up. We sometimes think squeezing as much into our schedule as possible is the key to success but being intentional in the direction we are going and the actions we'll need to take are essential in finding true fulfilment.


You'll learn-
-A framework for replacing disempowering habits with new empowering and consistent actions.
-Tools for overcoming limiting beliefs and negative self talk.
-Simple meditation strategies that you can use daily for productivity and stress management.
-A frame work for improving your communication with those closest to you.
-A simple system for feeling more energised, in control and proactive.

Date- 18th July 2020
Time- 10am-5.30pm
Location- Dublin (Exact Venue TBC)
Price- €120 


Still on the fence about attending? If you have any specific questions or concerns please feel free to send us an email on support@patdivilly.com
Please note this event will sell out so if you wish to attend be sure to register early.

Please note there are no refunds or transfers on tickets bought for the event. 
There will be a photographer/videographer filming this event. 


FAQ.

I haven't attended something like this before. What should I expect?
Many of the attendees that come to our workshops haven't ever been a personal development session before. Don't be intimidated by the prospect of it being your first event of this kind. Expect stories, lessons and ideas from Pat, conversations with other attendees and some written exercises to help you take as much from the session as possible. We'll begin at 10am, finish at 5.30pm and have an hour for lunch at 1pm. Over the course of the day in addition to the 'lectures' and written exercises we'll have some simple meditation and breath work practices for stress management suitable for all levels.

Is it ok to come on my own?
Yes! At least 60% of our attendees come alone. You will be encouraged to meet and chat with new people throughout the day. Community is sometimes lacking amongst men and so nurturing a supportive 'tribe' is a big part of our intention on the day.

Is this event open to women?
This event is exclusively for men but please check out the main site at PatDivilly.com for details of the Spring 2020 tour which is open to everyone.

What should I bring with me?
Please bring a pen, a notebook, some money for lunch and an open mind!

Who can I contact with questions?
Please email support@patdivilly.com with any questions.

Do I need to bring my ticket to the event?
Please bring your ticket printed or email confirmation on your phone to the event. We will open the doors at 9.45am and start the session at 10am.