---
Get notified if a ticket becomes available

Thanks, we'll let you know if a ticket becomes available
---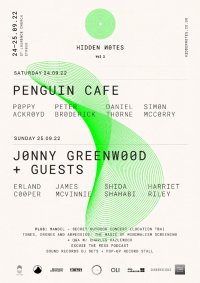 Following its debut in 2019 Hidden Notes returns for vol.2 on Sat 24th - Sun 25th September 2022...

The unique and eclectic lineup features musicians from some of the world's most forward thinking record labels including the likes of Erased Tapes, Octatonic Records, One Little Independent Records, Bedroom Community, 130701 (Fat Cat Records modern classical imprint) and Phases all held in the epic surroundings of St Laurence Church in the heart of Stroud, Gloucestershire.

This year we are extremely excited to announce that Jonny Greenwood will be closing the festival on Sunday (with guests tba!) 

Saturday's headliners are none other than Penguin Cafe initially founded by Arthur Jeffes in 2009 to celebrate the work of his father Simon Jeffes and the Penguin Café Orchestra but has now gone on to release critically acclaimed albums via Erased Tapes including last year's Hands of Night.
Other performers appearing over the weekend include the likes of Poppy Ackroyd (One Little Indian), Erland Cooper (Phases Records), Peter Broderick (Erased Tapes), James McVinnie (Bedroom Community), Shida Shahabi (130701) and Daniel Thorne (Erased Tapes).
The festival also promotes the work of unsigned/local artists with vol.2 seeing the inclusion of Stroud based cellist Simon McCorry and Bristol dwelling percussionist Harriet Riley (Spindle Ensemble/Charles Hazlewood's the Paraorchestra and Friends).

Additional events taking place over the weekend include screenings, exhibitions and outdoor performances.
- - - - - - - - - - - - - - - - - - - - - - - - - - - - - - - - - - - - -
Founded by local independent arts magazine Good On Paper Hidden Notes focuses on presenting the works of contemporary classical and avant-garde composers rarely seen together on the same stage whilst also providing the artists with a platform to perform new music and collaborations in intimate spaces.

For further information on the festival, tickets, performers, listen to the Excuse the Mess podcast from last year's festival and a piece about Stroud written for HN by Amy Fleming (the Guardian, FT, Newsweek, Good On Paper) visit hiddennotes.co.uk 

Alex Hobbis and Adam Hinks
Hidden Notes