---
Buy tickets
Ticket Type
Price
Fee
Quantity
---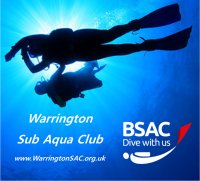 The course
The course consists of
1 Introduction Session (covering paperwork and introduction to the club)
6 theory modules
3 Two-hour pool sessions (More may be added if required)
1 Dry suit training session
4 Open dives
| | |
| --- | --- |
| Date | Description |
| 28/04/2020 8.30pm – 10PM | Introduction |
| 02/05/2020 – 9am – 5pm | Theory day |
| 05/05/2020 – 7.30pm – 10pm | pool sessions |
| 12/05/2020 – 7.30pm – 10pm | pool sessions |
| 19/05/2020 – 7.30pm – 10pm | pool sessions |
| TBC | pool sessions |
| TBC | pool sessions |
| TBC | Open Water Training Day inc Dry suit training |
| TBC | Open Water Training Day |
| TBC | Open Water Training Day |
Price
The current cost of the course and one-year membership is £310.00 for an adult member (with a place being secured for a £100-00 none refundable deposit), made up as follows
BSAC membership (1 year)

£60 (this gives divers 3rd party insurance and other benefits)

Warrington SAC Membership (1 year)

£125

Course & Training Pack

£125 (this covers the cost of pool entry, full SCUBA kit for use in the pool only. Training notes and your diver's qualification card, obtained on course completion)
Additionally
When training outside a student will cover their own costs. Travel. If in a training quarry membership around £10 for two years, and daily access currently £10.
Trainees will pay for their own air during training. This is in the region of £3-£5 a fill which should last for a couple of pool sessions.
Trainees are encouraged to start getting their own kit for use in open water, but as a club we are all there to give advice (the club has some items available for hire)
Trainees are responsible for looking after the kit during the pool training period, this includes keeping it at home and bringing it to the pool.
As an individual starts in this sport the main thing we ask for is commitment. The instructors at Warrington SAC give their time and support freely. Pool time is expensive and we make every effort to keep our costs low to enable people to take up this sport we enjoy.
Should you not complete the course in the designated time frame small fees may be payable for additional sessions to cover the additional cost the club has to pay. These will be in the region of £5 - £20 depending on what is required. Extra sessions are normally only chargeable if you have failed to turn up (Without a good reason) during the allocated slots.
Kit
During the pool sessions all kit is provided (Excluding swimwear) as part of the course fee. Once you go into open water you will be required to buy or hire the bellow items. You can find kit widely available second hand in very good condition. If you need advice on any kit we will be here to help.
| | | | |
| --- | --- | --- | --- |
| Item | Price to hire from WSAC Per day | Price to hire from dive site (aprox) Per day | Price to buy new (aprox) |
| Mask | £5 | £3 | £20 |
| Fins (Open Heal) | Not Available | £3 | £45 |
| Hood/Gloves | Not Available | £6 | £50 |
| Regulators | £10 | £10 | £350 |
| Cylinder (12L) | £5 | £9 | £200 |
| Dry suit & Under suit | Not Available | £25 | £500 + |
| Weight belt and weight | £5 | £4 | £10 for belt + £11 per kg |
| Watch | Not Available | Not Available | Huge range |
| Knife | Not Available | Not Available | £30 |
| Buoyancy control device (BCD) | £10 | £10 | £250 |
Sets are available to hire at a lower rate
WSAC package (Regs, cylinder, BCD, weights and mask) £25 per day
Dive Site Typical package (Cylinder, regs, BCD, dry suit, under suit, mask, fins, snorkel, hood, gloves, weights) £45 per day.
Where to buy kit
eBay and Facebook are a good place to find used kit.
www.simplyscuba.com and https:\\www.mikesdivestore.comare good places to get new kit as they offer competitive prices and finance is available.
There is also a number of Dive shows where stores and manufacturers offer huge discounts on kit. http://www.diveshows.co.uk https://www.godivingshow.com/