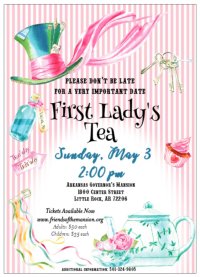 The 2021 First Lady's Tea is currently SOLD OUT.  
If you would like to be placed on a "Waiting List," 
please email Sharon Morris at:  sharon.morris@governor.arkansas.gov.
Please join us on Sunday, May 2, 2021, at 2 PM, for our annual First Lady's Tea where we will celebrate the classic 1951 Disney animated adventure, Alice in Wonderland.  Right now, our talented Mansion chefs are busy planning this year's menu which will include a wonderful selection of delicious sweet and savory treats, as well as the traditional choice of hot and cold teas.  Miss Arkansas will also be on hand to visit with guests and, by popular demand, we will have the Princess Carriage on site, offering magical, horse-drawn rides on the Mansion grounds. As always, hats and gloves are encouraged.  
To maximize seating and adhere to Arkansas Department of Health (ADH) spacing guidelines, seating will be available both INSIDE and OUTSIDE.  If, due to a medical reason, you are unable to be seated outside, please let us know immediately by calling our office at 501-324-9805 or email us at:  sharon.morris@governor.arkansas.gov.  All seating will be pre-assigned.
Also, if there is a threat of rain on May 2, please check the Association website for information on postponement.  The website is:  www.friendsofthemansion.org.  If the May 2 event is postponed, the alternate date will be Sunday, May 16, at 2 pm.  Guests unable to attend on May 16, will be able to request a refund of their ticket purchase.

NOTE:  To insure the safety of our guests, all ADH COVID-19 safety guidelines will be strictly followed.  Guests will be required to wear masks except when seated at their tables.  Please be assured that we will be monitoring the status of the pandemic and should the 2021 First Lady's Tea need to be canceled or rescheduled, guests will be afforded the option of receiving a refund for any tickets purchased.