---
Register
Ticket Type
Price
Fee
Quantity
---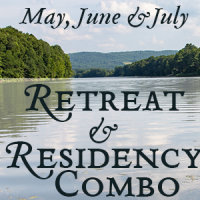 The intention with these combinations is to offer support for deeper, more sustained practice. As such, we have scheduled them so that you can attend both one after the next without interruption. We believe this is the best option in order to deepen both your contemplative practice and your creative practice.
Our Artist Residencies are self-led time to make art and replenish your creative spirit. Every morning you are invited to join us for morning meditation and singing. Sometimes our resident yoga teachers offer classes. Sometimes we have full or new moon ceremonies. Optional evening artshares are arranged most weeks. As with all Art Monastery programs, everyone is asked to help out in the kitchen for an hour each day.
The Artmonk Retreat is a structured meditation retreat with time for solo creative practice each day. This retreat offers a lot of guidance and structure for both meditation and creative practice.
Save $75 when you register for both.