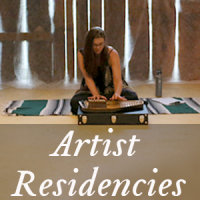 What
This residency program is designed to offer you just enough structure to take your creative project to the next level.
We offer:
daily contemplative practice & singing —Members of the Core Team are happy to offer meditation instruction. Just mention it and we'll arrange it.
optional movement practice
three lovingly prepared meals, made as much as possible with local, organic responsible ingredients
a supportive and intimate community
the opportunity to share your work and receive feedback from other artists
shared studio space
maximum solo time to work on your project
The retreat is set on 7 acres of land overlooking the Connecticut River. There will be plenty of outdoor spaces for moving, creating sound, or finding inspiration in nature.
We find that perhaps the greatest gift the Art Monastery has to offer is the opportunity to make art within the container of a contemplative community. We find it extremely effective to build community through the spirit of the gift. As such, everyone who comes to the Art Monastery spends one hour each day in the kitchen either helping to prepare or clean up after a meal. Rubbing elbows at the kitchen sink and while chopping vegetables from our garden give rise to some of the sweetest conversations. Thank you for participating in our heartfelt community!
Sample Weekday Schedule
7:30am — silent breakfast
8:15am — meditation & singing
9am-12:30pm — creative time / personal time
12:30-1:30pm — lunch with personal check-in
2-7pm — creative time / personal time
Dinner self-organized on your own rhythm
Artshares scheduled as requested.
Weekends have an open schedule.



When
We are offering one-week residencies on the following dates.
Arrivals and departures are on Saturdays.
Who
Artists.*
*(We believe everyone is an artist.)

Whether you are in your creative stride or rejuvenating your creative path, this week offers you the opportunity to develop your work within a contemplative container and, with the support of an intimate like-minded community of creatives, accomplish more than you thought possible.
The Art Monastery hosts visiting artists of all disciplines. Work spaces are available for soundmaking and for quiet, for visual art and dance/theater movement, in addition to the excellent outdoor landscape of our Vermont location.
Artistic feedback and contemplative support is available in one-on-one meetings with the Core Team, as well as group shares at the end of the week.
Where
Art Monastery Vermont, 2315 Connecticut River Road, Springfield, VT.
A truly special 7-acre farm on the banks of the Connecticut River, conveniently located right on Routes 5 & 143, we will live in the 8-bedroom farmhouse.
Accommodation
Sleep in a shared room, work in shared studio space. Upgrade to a private sleeping space with a desk (according to availability) for an additional $100.
For information on what to bring, please visit our packing list page.
For information on how to arrive, visit our Directions page.