---
Register
Ticket Type
Price
Fee
Quantity
---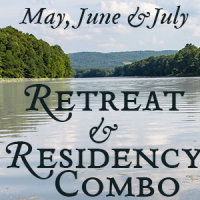 The intention with these combinations is to offer support for deeper, more sustained practice. As such, we have scheduled them so that you can attend both one after the next without interruption. We believe this is the best option in order to deepen both your contemplative practice and your creative practice.
The Embodied Artist speaks to the deep benefits to artists who are awake to their bodies, locating creativity in the physical form. All creatives benefit from embodiment. You do not have to be a dancer or performer to benefit from this program. Catalyst Training each morning will get you into your body—whatever level you're at right now—and the afternoons are free to work on your creative projects.
After the enlivening week of the Embodied Artist, stay for an additional week of artist residency.
Our Artist Residencies are self-led time to make art and replenish your creative spirit. Every morning you are invited to join us for morning meditation and singing. Sometimes our resident yoga teachers offer classes. Sometimes we have full or new moon ceremonies. Optional evening artshares are arranged most weeks. As with all Art Monastery programs, everyone is asked to help out in the kitchen for an hour each day.
Save $75 when you register for both.
Upgrade to a solo room for an additional $100.