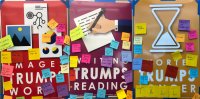 Are you a teacher, trainer or coach who has been looking for ways to make your curriculum more engaging, hands-on, actionable or fun? Do you struggle to create curriculum that encourages your students to learn collaboratively, practice what they've learned and then document ideas on how to take the information and use it later? If you answered yes to either of these questions, this "Training from the BACK of the Room" Practitioner course is for you! Based on the best-selling books by Sharon Bowman, the curriculum for this course will lead you through 6 Learning Principles that have their roots in cognitive neuroscience.  These Learning Principles will help you engage your audience and help them retain what you've taught them. You will experience dozens of tools that will allow you to apply these learning principles in your own classroom and you will leave with an extremely full "tool bag" of tools that you can take back and start applying immediately!
In this hands-on course, you'll explore the 4C's map, which is based on Accelerated Learning, and learn how to structure your curriculum to make the most of the limited time you have with your students. You will use the knowledge you've gained to create a 4C's map on a topic that you currently teach. Teachers and trainers that fall anywhere on the spectrum from new to experienced will walk away with ideas they can implement right away.  Just take a look at what some of our attendees have said about this course:
"It's Imperative that all teachers, instructors, facilitators take this course.  There are so many essential elements that are crucial to an effective learning experience" - TJ from Sony
"Great use of my time!  The content delivery modeled the TBR concept, making them memorable and engaging.  The tool bag provides me practical ways to immediately incorporate this content into my work." - Sharon from Slalom
"Nicole led us through a series of interactive exercises that introduced, modeled and reinforced best in class learning techniques.  I appreciated that we applied what we are learning and we can start using it on day one." - Bernadette from Sony
"This training is a must for every Learning & Development professional.  The material will take any program to the next level.  Period!!!" - Ingrid from Slalom
What's included:
2 fun-filled days of collaborating with attendees from all over the country and beyond

Sharon Bowman's best selling books "Training from the BACK of the Room" and "Using Brain Science to Make Training Stick"

A 55 page workbook to document your learning and take back a large collection of tools to take back and start using immediately

Practical application of what you have learned by creating your own training map

A certificate of completion that earns you an opportunity to participate in the very limited Trainer Certification Course, certifying you to present the official two-day TBR course

Access to the TBR Practitioners Slack Group – a global group that supports its members with online collaboration, feedback, problem-solving, and encouragement

Snacks, coffee, tea, water, sodas and lunch are included in registration (sleeping accommodations are not provided)
Who should attend?
Teachers/Trainers

Speakers/Presenters

Agile Coaches & Trainers

Anyone who needs to engage an audience!
Prerequisites:
About The Instructor:
Nicole Fleming, Co-Founder of Fleming Services, nicole@flemingservices.biz

I've always been fascinated by how people learn and retain information and now I'm combining two of my passions – teaching and professional development – in order to help people enjoy learning again. I have observed and helped facilitate hundreds of training classes in a wide variety of formats and venues. Learner interest and engagement have always been major components of all the workshops and classes I facilitate. As a Certified Trainer for "Training from the BACK of the Room," I take what I have learned from the experts in brain-based instruction and Agile Leadership and apply my own unique perspective and approach to all the training programs I facilitate. I am honored to have been chosen by Sharon Bowman to be the only "Trainer Certification Course" (TCC) Certifier in the US.
When I'm not training, supporting TBR Certified Trainers or geeking out on Brain Science books, you can find me in one of three places: talking long walks on our rural property with my four-legged children, clinging to the side of a rock with my climbing, training and life partner at the nearby Red River Gorge or enjoying an exhausting, sweaty workout at our local CrossFit gym.
Cancellation Policy:
Substitutions are welcome at any time. Transfers within 4 weeks of the course date may require an administrative fee. Cancellations require an administrative fee. This course is not guaranteed to run until we reach a minimum of 8 participants. We need a minimum of 8 in order to have a successful course. If the course is canceled due to low enrollment, a full refund will be offered.