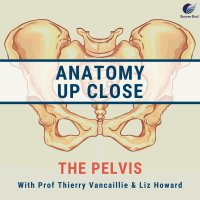 Get up close and personal with the anatomical structures that you treat every day in your practice!
If it's been a while since you had the privilege of returning to the anatomy laboratory to learn then the pelvis is a great place to start! Pelvic pain and organ dysfunction are common presentations which one in five women and one in twelve men will suffer at some point in their life.
This sensitive area of practice requires a sound understanding of the functional anatomy, common symptoms, treatment approaches available and empathy – a role allied health manual therapists can be well-suited to play.
Anatomy Up Close: the Pelvis has a strong practical focus based on case studies of common presentations seen by Professor Thierry Vancaillie (Pain Medicine Physician and Gynaecologist) and Liz Howard (Osteopath) at the Women's Health & Research Institute of Australia in Sydney.
The course features a morning in the anatomy lab inspecting pre-dissected pelvic cadavers under the guidance of gynaecological surgeon Prof Vancaillie who has a vast experience in conservative approaches for hypertonic pelvic floor muscles, pudendal neuralgia, mesh-related pain and organ dysfunction, as well as the surgical treatment of infertility of Asherman's Syndrome, endometriosis, neuromodulation for neuropathic pelvic pain and the removal of trans-vaginal mesh.
In the afternoon transfer and apply your new anatomical perspectives from the cadaver lab into a clinical setting (with osteopath Liz Howard and Prof Vancaillie) and learn when interventions are indicated as well as key manual techniques and clinical gems for the structures examined in the case studies. Internal techniques will not be demonstrated.
Learning Outcomes
• Revise the embryological development of the pelvis and perineum with key features to help differentiate the common clinical symptoms of the pelvis and perineum
• Identify key anatomical structures on cadaver specimens relevant to common pelvic and perineal pain presentations seen at a tertiary specialist pelvic pain clinic (WHRIA). This will include
      Pelvic floor muscles, examination, when and how we use botulinum toxin injections
      Pelvic nerves including the sacral plexus and the pudendal nerve, how a nerve block is done in theatres
      Pelvic girdle structures: SIJ and pubic joints, where injections are targeting and why
      Pelvic organs and the relationship to each other and the musculoskeletal structures of the pelvis with the view to understanding post-surgical pain presentations
• Understand the common presentations of female pelvic and perineal pain via case-based learning
• Understand how the anatomic structures relate to clinical symptoms and treatment planning
• Introduction to how a pain physician approaches the physical examination of patient presenting with pelvic or perineal pain
Course Details
This course is applicable to all allied health manual therapy practitioners with an interest in pelvic anatomy. It would serve as an excellent addition to Liz Howard's Pain & Pregnancy and Pelvic Pain Puzzle courses.
The course will run from 8:00AM to 4:00PM. Places are limited to 2 attendees. It includes morning and afternoon tea, printed course notes and an e-certificate of attendance for your CPD records. The course can be counted as 6.5 hours CPD.
About the Presenters
Professor Thierry Vancaillie is a gynaecologist and pain specialist, renowned for his role in developing minimally invasive procedures, including hysteroscopic and laparoscopic surgery. His expertise includes pudendal neuralgia, pelvic pain, post-surgical pain and the surgical treatment of infertility with Asherman's Syndrome.
Liz Howard has more than 20 years' experience as an osteopath, pain educator and clinical specialist in sacral neuromodulation. She has more than 16 years' experience teaching at multiple Australian universities and as a CPD provider.
The Women's Health & Research Institute of Australia (WHRIA) is a tertiary specialist clinic for pelvic and perineal pain, with referrals for women and men from all over Australia. Prof Vancaillie and WHRIA's Dr Jason Chow are two of Australia's three accredited dual-qualified Gynaecologists and Pain Medicine Specialists. Liz Howard has been working in collaboration with Prof Vancaillie and Dr Chow for over 9 years, providing osteopathic manual therapy, pain education, exercise and home care advice to help guide patients on their path to recovery, as a part of a whole team approach.