---
---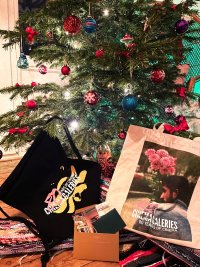 Compose your Cinema Galeries gift box - Composer votre boite cadeau Cinema Galeries
For the celebrations of the end of the year, have the Cinema Galeries gift box delivered to your home.
A l'occasion des fêtes de fin d'année, faites vous livrer chez vous la boite cadeau Cinema Galeries, composée par vos soins.
La carte 5 places - 30 euros.
Adoptez la carte 5 places et bénéficiez du tarif préférentiel de 6€ par séance. La carte est illimitée dans le temps et non-nominative : invitez vos proches à petit prix ! Dès notre réouverture, un numéro imprimé sur la carte vous permettra de réserver vos places via notre nouvelle billetterie en ligne.
Le totebag / Le Gymbag 80 years of cinema - 9,50 euros
Le masque Cinema Galeries - 1 offert pour chaque commande. Coûts par masques supplémentaires - 5 euros.