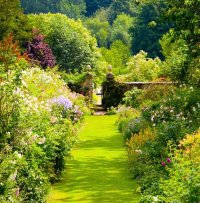 Cerney House Gardens is one of The Cotswolds' hidden gems. It offers a Victorian walled garden and mature woodland, among its delights. Located at North Cerney, north of Cirencester,  the gardens can be explored before or after this foraging course as admission is included. And, the ornamental planting gives an opportunity to discover some edible ornamentals as well as wild plants and mushrooms. 
This foraging course walk venue is easy to get to from Cirencester, Cheltenham, Swindon, Gloucester, Oxford, and Stow-on-the-Wold, with Bristol under one-hour away. ​
The course includes: 
- an overview of foraging laws and safety best practice 
- exploration of the venue introduction to a number of edible species 
- instruction on how to tell edible species apart from poisonous lookalikes 
- tips on harvesting 
- information on where to find these species again 
- recipe ideas 
- wild food treats to sample 
- digital information sheet sent after the course 
Samples of tasty wild food treats could include soups, pestos, salts, pickles, syrups, cordials, jams, jellies, leathers, vinegars, and preserves. All are either 100% plant/fungi-based or have a 100% plant/fungi-based alternative.
Participants must be aged 18 or over - sorry, no children under 18 or babes in arms on this course.
Unfortunately, dogs are not permitted on the course.
Exact meet-up location and further information sent two days before the course date.  
Terms and conditions can be found on www.foragingcoursecompany.co.uk

We cannot guarantee what wild edibles will be growing on our courses, such is the nature of foraging. However, as a rough guide of the seasons, spring is usually predominantly plants and perhaps some mushrooms; summer is usually plants, fruits and perhaps some mushrooms, and autumn is usually predominantly mushrooms with some plants, fruits and nuts