---
---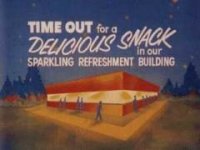 Need to add an additional Concession order to your night? Buy them HERE and when you arrive SHOW US the Order at Check In and we will give you your additional Items! ALL ORDERS ARE PICKED UP IN LINE IN YOUR CAR WHEN YOU CHECK IN AT THE DRIVE-IN!

--- DO NOT FORGET TO SHOW TICKET RECEIPT FOR THIS TICKET ON ARRIVAL OR IF ORDERING IN YOUR CAR SPACE YOU MUST TEXT US WITH RECEIPT OR WE WILL NOT KNOW TO GIVE YOU/BRING YOU YOUR ORDER!!!
THIS IS NOT AN ORDER FOR 1 SPECIFIC NIGHT. YOU WILL BUY YOUR REGULAR NIGHTS CAR SLOT AND PASSENGER TIX FOR THE SPECIFIC MOVIE AND NIGHT YOU WANT. THIS IS TO ADD AS AN ADDITIONAL ORDER FOR CONCESSIONS THAT ARE GIVEN TO YOU IN YOUR CAR- AS OUR CONCESSION STAND and ALL OUTSIDE OF CAR AREAS ARE CLOSED inside drive-in! > THESE ARE IN CAR NIGHTS ONLY!
BE SURE TO BUY A CAR SLOT FOR THE NIGHT YOU WANT TO ATTEND BEFORE  ANY ADDITIONAL CONCESSIONS FROM THIS TICKET WHICH WILL BE A SEPARATE ORDER!