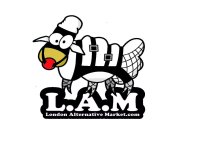 During 2020 LAM held a bond drive to support us during the difficult times.
This enabled us to not only develop the live streaming aspects of the event but also to hold some of the only events in 12 months providing a vital lifeline to not only the traders but those who have few opportunities to express themselves.  Without this support the damage to the the event would have been harder to recover from and for that we are eternally grateful.
This event listing is maintained for admin purposes so its easier for those who have bonds to cash them back in.
Thanks for your support.
David 
First of all I hope you are all well.

During the 2020 pandemic LAM can't run events but continues to incur expenses, these are in the region of £750 per month consisting of storage costs, web fees and subscriptions. Like many small businesses we are not eligible for the Local Authority bail out grant because we don't have dedicated premises and have no PAYE staff to furlough, almost all of our profits get redistributed to scene causes and as we are monthly we rarely operate with anything other than a minimal reserve. We have applied for a government backed loan but one of the concerns is that this funding will not be available in time to make our impending expenditure. While we have been able to cover a few months the prospect of keeping the event intact and broadcasting weekly live online events while incurring an increasing debt is rather ominous, having to do this for multiple businesses has been extremely stressful.
We have therefore decided to have a "bond event" whereby tickets are available on as "gift vouchers" towards future events, if you buy one while the event is shuttered at just £5 we will honour it as an entry tickets to regular LAM events when we are able to run them again (after the first one). Effectively for supporting us through this difficult time we will give you a discounted entry when we can restart again so you are effectively investing in securing the future of the event.
Vouchers will be redeemable at the regular London LAM and Manchester LAMchester events and will be issues to you in the form of a discount code for online tickets through the ticket tailor platform.
We feel that this is the most ethical way that we can raise funds at this crucial time and anything left in the pot after the first cycle of events will be donated to charities working to support care staff.
We hope that you have been enjoying the Live stream events via YouTube and the other communication channels we have put in place.
Above all we hope that you are all safe and well throughout this difficult time and that its not too long before we can all meet again.
David
On behalf of LAM events