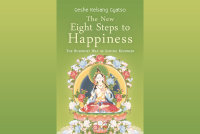 Foundation Programme 

with Buddhist Monk Kelsang Jangchub

4 Week trial anytime -  7- 9pm
£20 for 4 weeks or sign up for Centre card | Centre card holders free 
ABOUT FOUNDATION PROGRAMME
Many people have been asking about the next step to take to deepen their meditation practice. We are delighted to invite you to discover how to make your practice deeper, more structured, more regular and more enjoyable.
Foundation Programme (FP) is an ongoing, weekly course on Buddhism and meditation. The course is suitable for anyone with interest in deepening their understanding of Buddhist meditation and wisdom.
The Programme consists of a dynamic combination of teachings, meditation and discussion, all of which enable us to go deeper into the layers of meaning within each book that we study. All of this helps us to make real progress along our spiritual path. Each class consists of preliminary prayers, guided meditation and reading from the book with commentary and discussion.
There are many benefits to joining the Foundation Programme namely:
Increased personal insight, wisdom and experience of Dharma (Buddha's teachings)
Studying and meditating more effectively following a specially-designed programme and qualified meditation teacher
An opportunity to discuss and ask questions
Help, support and friendship from like-minded people
Gain the ability to integrate Buddha's instructions into busy modern life.
How do I start?
We are due to start studying the text The New Eight Steps to Happiness from Thursday 4th June 2020 with 4 Introduction classes for £20. For anyone interested in studying further, you can sign up at any point during the introductory period. 

When you join the Foundation Programme, you commit to studying one section of the book. This can take differing lengths of time, depending on which book is being studied, and how far through we are. Generally the commitment is to study for approximated 10 months. The classes generally break in line with school holidays.
What to expect
In each class there are guided meditations, teachings on the book, and discussion in pairs. Every fifth or sixth class is a group discussion, which enables students to ask questions and clarify the meaning of the text.
What are we studying?
The New Eight Steps to Happiness by Geshe Kelsang Gyatso Rinpoche
This book is the latest version of Geshe Kelsang Gyatso's best selling book, Eight Steps to Happiness.
Based on the famous Eight Verses of Training the Mind by the great Bodhisattva, Langri Tangpa, this inspiring book reveals essential methods for transforming all life's difficulties into valuable spiritual insights and for developing universal love and compassion, the source of true happiness for both self and others.
This book is available to buy online here
Correspondence Course
You can also join this course by correspondence. You will then receive the recordings of every session. For Correspondence it is the same price.
Contact epc@meditatenorthwales.com or 01492 878778 for more details.