---
Join Now
---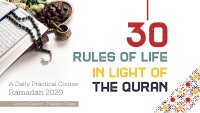 In this course you will learn 30 powerful rules of life from the Quran. Each class covers 1 rule of life in an interactive, engaging and conversational manner. The aim is for you to understand, reflect and internalize each rule and put them into practice through assignments, feedback and  coaching. This will aid you in aligning yourself and your life with the teachings of the majestic Quran, resulting in greater peace of mind, freedom from resentment and regret, better relationships and a profound relationship with God.  
---
Practical learning
Practical rules of life that will empower and enhance your day to day lives

Inside-out
Transformation starts from within and in this course you will transform your experience of life  
Interactive
You will have the opportunity to get involved and engage with the course leader (Imam Ajmal Masroor) throughout each class 





What You'll Learn



Ability to make the Quran a source of practical guidance: Learn how to tap into the Quran for guidance, internalise it, and apply it in to many areas of your life.

Ease and Peace of Mind: As you journey through the Quran and gradually apply its practical guidance over the duration of the course, you will find yourself more at ease and with greater peace of mind.

A Profound Relationship with God: Through daily reflection and practices, you will remove whatever is in the way of a profoundly loving relationship with God.

This Course Includes:


1.5 hour live online class, twice a week for 15 weeks 
Workbook for each class
Downloadable resources

Date: Every Wednesday and Friday starting 4th September 2020 for 15 weeks
Time: 7-8:30pm  (London time) 

(if you miss a session, a full recording of the session will be made available for you after the live session is over) 

90 min sessions - 30 sessions - 15 life changing weeks

Cost: £150 (for an individual or household pass)

Requirements:
Commitment
Access to the internet
Smartphone, Laptop or Computer

Once you register, we will contact you with the details of how to login to your online live class.
A workbook for each class will be shared with you before the class by email.


LIMITED SPACES AVAILABLE. BOOK YOUR PLACE NOW.