---
Buy Tickets
---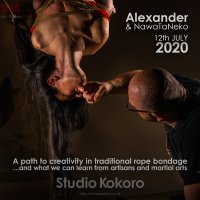 A path to creativity in traditional rope bondage
… and what we can learn from artisans and martial arts
What does it mean to be creative in Kinbaku? How to innovate in a traditional art? When is a tie, a pattern, or a figure "new"? And is it important?
Dealing with "innovation" and "creativity" professionally and bringing the experience of 15 years training in traditional Japanese martial art, Alexander from @discoverkinbaku will discuss ideas how to navigate between tradition and innovation, between heritage and dogmatism.
We will touch the question what learning and training means in the Japanese traditions, and talk about concepts like SHU-HA-RI and UKEMI and how they could help us to make progress in our own Kinbaku.
Of course, there will be time for Q&A and discussion.
If you have any questions about attending a Studio Kokoro Live Class please see our Frequently Asked Questions Page before contacting us. It is very likely your question may be answered there. Thank you

Studio Kokoro Live Terms - Please read before purchasing your ticket
Please read and accept this information about joining Kokoro Live. By purchasing a ticket you agree to the below information:
All events are scheduled for BST / GMT+1 timezone (London, UK Time)

Our classes take place at different times please check the time carefully for each event, even with the same presenter.

If you purchased your ticket via an event on FetLife, please note that FetLife changes the event listing to your own local time. Please use the times given in this ticket.


Tickets are 1 per house hold (assuming you are using the 1 zoom) if you need 2 zoom windows open, then you will need to purchase 2 tickets.

We currently offer free tickets for healthcare workers risking their lives, either NHS or abroad and for those in the Black Tie Rope Collaborate to support access to education. Contact us for the access codes to these tickets. 




We have budget tickets for those struggling financially / unemployed right now.

These are live classes and not recorded, they cannot be viewed after the event itself.

Tickets are non-refundable / non-transferable to another class - you get the password and room information in your ticket so we are unable to refund / transfer if you cannot attend. Please consider this before purchasing your ticket.

You do not need to turn your video on and all microphones will be muted during the class.

You will need to download zoom (free) to access this class.

If you struggle with timezones, you can use google or https://www.worldtimebuddy.com/ to help with this.