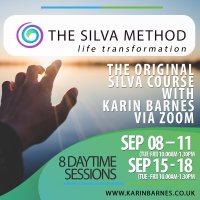 The Original International Silva Method Course - BLS modules #101,#202,#303,#404
IN THE COMFORT OF YOUR OWN HOME - VIA ZOOM!
with
Karin Barnes Certified Silva Method Instructor 
Sep 8 – 11(Tue-Fri) 10.00 am-1.30 pm and Sep 15 - 18 (Tue-Fri) 10.00 am-1.30 pm

The Power to Change Your Life!
The Silva Method has now become one of the most widely used and popular personal growth programs on the planet!
You will learn to use your mind in a different way, using easy to use techniques, to accomplish your goals, whatever they are.
Karin will share with you powerful Silva techniques and information, that will support you to find solutions to problems and give you the energy and confidence to manifest your dreams.

This is a highly visual and experiential program, that will leave you feeling inspired and empowered.
Don't miss this rare opportunity to discover for yourself how powerful you truly are.
You will learn science-based and easy-to-use techniques to:
access deep states of relaxation and meditation
access deep states of intuition
create deep states of mental, emotional and physical healing
discover powerful, states of deep consciousness
apply these techniques to problem solving, decision making, relationships, business, careers, education, and for core healing from the inside out!
apply techniques to find your life's purpose
IMPROVE our capacity for LOVE, FORGIVENESS and HAPPINESS
___________________
The course will be presented over 8 mornings. (3 hours tuition with a 15 min break.
Karin will join this zoom seminar, 30 mins before the start (9.30 am) to allow everyone time to join the meeting and set up.
This webinar will be recorded and available for attendees during and up to 1 week after the course.

IMPORTANT:
1) You need a 13 inch laptop or desktop (the larger, the better and not a mobile phone and not an iPad),
with the application called ZOOM installed on it.

2) EACH Student needs a separate laptop/desktop (student must not share a computer, as that would prevent them to participate in some of the exercises.

3) Ticket buyers will be supplied a link by email (to enable them to join the webinar) and password a couple of days, before the course (please, supply valid, unique email for each attendee and also a valid, unique mobile phone number for each attendee.
___________________

Price
Standard ticket - £500.00 ($600.00 USD)

Discounted ticket  -  £400.00 ($500.00USD) for 2 or more bookings at the same time, for single students, for pensioners, for YLS certificate, for means tested benefits.
Repeater ticket - £75 ($100.00 USD) For Silva Graduates with a Silva ID No.
For any questions please phone Karin on 07960544829 or email karin@silvamethod.uk.com

www.silvamindfulness.co.uk

"May the rest of your life be the best of your life" Jose Silva