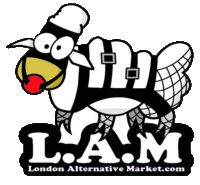 LAM & RAMS Kinky shopping down on the farm
Kinky farmers market down on the farm.
Tickets on sale until 23:30 10th July to give you time to read the instructions for this event before it starts.
Following a break we have collaborated with RAMS to bring a one off farmers market on Sunday 12th July enabling social distancing shopping and a picnic in a relaxed setting.
This will be LAM's first shopping opportunity since March so if you need to stock up or see whats new this is your chance.
We have secured the use of barns and fields on a remote farm on the South Coast near Rottingdean where we will set up a social distanced one way market and will provide a BBQ and alcohol free bar, ticket holders may bring their own alcohol onto site. The event will be ticket holders only and we are working on an option for those who wish to shop and collect via drive through and video calling.
BBQ
Sausages - host farm reared South Down National Park pigs butchered and prepared by a Brighton award winning sausage makers using a 98% pork recipe. Farmhouse (gluten free), Cumberland and pork & apple £3.50
Beef burgers - locally sourced organic beef procured by the same award winning butcher crafted into a gluten free patty £4
Bacon rolls - host farm reared South Down National Park pigs butchered and prepared by a Brighton award winning £3
Halloumi rolls - Sussex produce sourced through the local farmers supply network £3
Vegan sausages and burgers will also be available on the day.
Add locally produced vegetarian cheeses - mild and creamy St Giles (perfect for melting), mature cheddar (perfect for BBQ meat) and Sussex Halloumi (for all you squeaky cheese fans) £1
A range of rolls and French sticks from the Real Patisserie (vg) with gluten free options available. A selection of sauces and chutneys will be available to customise to your taste.
Refreshments
Selection of locally made farm sourced cakes and scones with local butter or clotted cream and Sussex jam - from £3
Selection of locally produced drinks - from £2
Selection of tea and coffee - from £1.50
We are happy to take food orders in advance for those with specific dietary requirements to ensure you have the food options you want.
We will also have an outdoor Healthy Mental Practices session with @TheKinkShrink and a Live comedy set from @LeatherComedy

There is amble acreage of parking on site and we are working on a open air shuttle between the site and a short walk from the public transport connection to make it as accessible as possible.
There will be no play area but if you don't mind sharing the field with a few sheep there is plenty of space to bring blankets and have a picnic (so long as you comply with the guidelines at the time).
We will install a wifi network to enable the drive through shopping and will try to extend that through the social area with a solar wifi network.
Toilet facilities will be provided in the form of portaloo's and unfortunately the venue is not suitable for wheelchair users other than the drive through video shopping.
Details of the location will be sent to ticket holders only. In the event of poor weather the layout of the venue will be configured to allow a covered picnic area using the more indoor barn for the stalls. Weather permitting the parking and picnic field will allow amble room for people to navigate catching up without getting too close.

Hope to see you all there from a distance (of course).
David
On behalf of LAM