---
BOOK IN
---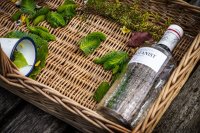 Wild Cocktail Masterclass
Foraging with Carousel & The Botanist
11am - 3pm
While the Hackney Marshes don't quite match the Inner Hebrides for drama, they've long been a magnet for London's most resourceful chefs and bartenders who flock there in the dozens year round to forage all manner of delightful sounding ingredients like pineapple weed, meadowsweet and spruce tips. Here's your chance to join them...
We've teamed up with Islay dry gin, The Botanist, to bring you an outdoor experience like no other. Made with twenty-two botanicals, sustainably picked by hand on the Scottish island by the distillery's own forager, The Botanist has long been a vocal champion for the endless creative possibilities of wild ingredients.
With the help of the distillery's resident mixologist Abi Clephane and her forager friend Elliot, we'll spend the afternoon on the marshes introducing you to the joys of wild ingredients, showing you where to find them, how to pick them, and what to do with them. Abi will let you in on a few secrets, like the aromatic (and sustainable) alternatives to tropical fruit that are growing in your own back yard, before showing you how to make four delicious wild cocktails: a Figleaf Collins, a Nettle Gimlet, an Elderberry Bramble and, finally, a Meadowsweet, Pineapple Weed and Spruce Shoot Sour (which tastes a lot like Lilt).
The experience begins at Homerton station and ends in a secret wild location, where our team will be waiting with a pop-up picnic area complete with its own bar for the masterclass. Expect delicious foraged snacks from the Carousel kitchen and plenty of goodies to take home with you, including seeds for growing your own wild herbs at home.