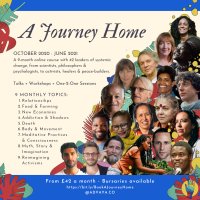 Please note this course began on Tuesday 6 October however, it is still possible to join. We are recording the sessions so anyone who joins late can catch up. 
Join us on A Journey Home, a very special 9-month online course and learn from ancient wisdoms, spiritual traditions and 42 leaders of systemic change, from scientists, philosophers and psychologists, to activists and peace-builders.

Each month we will dive into a new topic with evening talks, afternoon workshops, 1-1 sessions and optional creative projects. We'll be looking at relationships, food, regenerative agriculture, the economy, addiction, death, mental health, embodiment, consciousness, trauma, healing, myth, storytelling, and activism.

It's a trans-disciplinary and transformational reappraisal of what it means to be alive today. Ultimately, we will be going on a journey of falling deeper in love with our embodied existence and exploring how we support the transition towards a just and regenerative future.
Spaces from £42 a month.
Please read on to see an overview of the course and our monthly topics!
> The Journey consists of:
A 9 month themed journey online
Each month includes:

An evening talk
A practical workshop,
Small group sessions (optional)
1-1 mentoring sessions with one of the curators (optional)
Personal practices and optional course-work (optional)

4 encounters with place;
An Introductory Gathering;
A Reunion.

> Participants:
Charles Eisenstein, Satish Kumar, Matthew Fox, Vandana Shiva, Pat McCabe, Jay Griffiths, Dr Sharon Blackie, Jyoti Fernandes, Bayo Akomolafe, Alastair McIntosh, Dr Rupert Sheldrake, Colin Campbell, Colin Dunsmuir, Jason Hickel, Rev. Mariama White-Hammond, Merlin Sheldrake, Josina Calliste, Brooke Bridges, Makgathi Mokwena, Ruairi Edwards, Kos Gangsters, Amber Tamm, Ian Solomon-Kawall, Vuyi Qubeka, Riane Eisler, Lyla June Johnston, Dr Christine Caldwell, Stephen Jenkinson, Helena Norberg-Hodge, Kaira Jewel Lingo, Carolyn Hillyer, Luke Metelerkamp, Selena King, Sam Gandy, Adrian Kawaley-Lathan, Ruby Reed, Eve Annecke, Christabel Reed, brontë velez, Eric Swarts, Seth Tabatznik, Shaun Chamberlin, Alnoor Ladha, Sister Euphrasia (Efu) Nyaki, more to be confirmed.
> Monthly topics:
October: Relating; November: Food & Farming; December: New Economies; January: Depression, Addiction & The Shadows; February: Death; March: The Body & Movement; April: Meditative Practice & Consciousness; May: Myth, Story & Imagination; June: Re-Imagining Activisms. 

> Course Fees:
In order to make the course as accessible a possible we have created a sliding scale. Please choose whichever options feels most appropriate and comfortable for you. You may pay upfront or pay on a monthly basis. 
£42 per month (without the monthly one-2-one private sessions)
£62 per month (£558 for 9 months)
£72 per month (£648 for 9 months)
£82 per month (£738 for 9 months)
FULL INFORMATION BOOKLET HERE: http://bit.ly/journeyhomeonline 
> Community Platform
We are using Mighty Networks as the community platform for A Journey Home. We will meet here for all our sessions. It will become a treasure trove of fascination, divided into our themed topics with relevant materials, recordings, calendar reminders, etc. There is space for us all to contribute. To learn about each other, and to share.  
Ruby, Christabel and Eve will add readings, resources and suggestions for each theme, by the first day of that month. We will try not to get too carried away, and keep the themes lean and focused. Ours is not the journey that is trying to be all things to all people. That tends towards noise, confusion and often overwhelming. Our attempt will be discernment, refuge and sanctuary in filtering through the plethora of what's available. 
Each talk and workshop will be recorded and kept in the platform, there for you in case you'd like to refer to them again, or in case you miss one.

> About the One-2-Ones:
The private sessions offer participants the opportunity to have monthly 1-1 mentorship, guidance and holding. We felt that whilst online courses are amazing, as they make learning so accessible, it also means that people can feel a little lost and disconnected. The 1-1s will be 30-45 minute sessions with either Ruby Reed, Eve Annecke or Christabel Reed. They will be responsive to whatever the person feels they need in that moment, so they might include breathing, bodywork, mindfulness, nature connection, discussion of that months topic, mentorship on a particular creative project, a check-in etc.... We'd love to support people in cultivating a daily practice that deepens and evolves alongside the course.
> Bursary places
We are really happy to welcome 40 participants on a subsidised or full bursary but sadly the bursary spaces are now full.

> Cancellations
Please note that after the start of the course cancellations and refunds are not possible. 
_____________________________________________________________________________
Course Structure



INTRODUCTORY GATHERING
Initial gathering: introduction and building the structure of the journey. (This is recorded for anyone that can't make it).
Tuesday 29 September 2020, 7pm BST
* October: RELATING *
With Pat McCabe (thriving life design), Merlin Sheldrake (microbiologist & author of Entangled Life), Riane Eisler (cultural historian & systems scientist) & Eve Annecke (ecologist & writer)
How we come to relate to ourselves, others and the more-than-human creates the context from where our actions, beliefs and attitudes arise. For the first month of A Journey Home we are diving into relating. We will explore practices, ways of being and ways of knowing that allow us to come into deeper relationship with Life.
Evening talk with:
Merlin Sheldrake, Riane Eisler & Pat McCabe, Tuesday 6 October 2020, 7pm GMT
A Workshop with:
Eve Annecke, Saturday 17 October 2020, 4pm GMT
* November: FOOD & FARMING *
With Dr Vandana Shiva (physicist, anti-globalisation and seed sovereignty activist & author), Brooke Bridges (mental health advocate and founder of Storytelling for Social Emotional Learning), Jyoti Fernandes ( Via Campesina and Land Workers Alliance), Ian Solomon-Kawall (Freedom Teacher Guide & May Project Gardens), Amber Tamm (Farmer and Healer), Josina Calliste (Land In Our Names, LION)
A holistic approach to personal, social and ecological wellbeing must explore not only the kind of food we eat but, more importantly, the way in which our food is grown and produced. Industrial agriculture is destroying the health of people and the planet. So, what are the solutions and how can we support the transition to regenerative farming practices? How can farms be conceived as ecosystems and how can farming be designed to provide everyone everywhere with food of the highest quality, forever, without wrecking the rest of the world? During month two we'll be asking leaders of agro-ecology and food justice these questions and more.
Evening talk with:
Vandana Shiva, Brooke Bridges, Jyoti Fernandes, Ian Solomon-Kawall, Amber Tamm, Josina Calliste, Tuesday 3 November 2020, 7pm GMT
Workshop with:
Kos Gangsters & Luke Metelerkamp, Saturday 14 November 2020, 4pm GMT
* December: NEW ECONOMIES *
With Alnoor Ladha (Sufi, The Rules & Culture Hack), Jason Hickel (author & economic anthropologist), Helena Norberg-Hodge (Local Futures & Economics of Happiness), Shaun Chamberlin (Transition Towns & Fleming Policy Centre)
Many of us think about economics as men in suits on Wall Street or Politicians arguing about money, but the economy is inextricable from social and environmental justice and interconnects us all. It is present in almost every element of our lives & dominates global culture and society. During month 3 we will be breaking down what 'the economy' is really all about and what 'new economies' would entail, and developing the powerful knowledge needed to answer back the next time someone says "we can't afford a green new deal"!
Evening talk with:
Alnoor Ladha, Jason Hickel & Helena Norberg-Hodge, Tuesday 1 December 2020, 7pm GMT
Workshop with:
Shaun Chamberlin, Saturday 12 December 2020, 4pm GMT
* January: DEPRESSION, ADDICTION & THE SHADOW *
With Bayo Akomolafe (author, speaker, lecturer), Lyla June (Indigenous environmental scientist, doctoral student, educator, community organizer and musician), Jay Griffiths (author of Wild: An Elemental Journey, and many more)
For many of us, addictive behaviours and depression play a critical role in the way we, or our loved ones, experience life. For month 4 we will explore the shadow, the trickster, depression and addiction. How can we be gentle with and in touch with the less-comfortable aspects of our being? How can we adapt the way we come to relate, or cling, to things that cause us suffering? How can we become curious and aware of depressive tendencies without pathologising these states of being?


Evening talk with:
Jay Griffiths, Lyla June, Bayo Akomolafe, Tuesday 5 January 2021, 7pm GMT
Workshop: Saturday 16 January 2021, 4pm GMT
* February: DEATH *
With Charles Eisenstein (author and speaker on anti-consumerism, interdependence, and how myth and narrative influence culture), Stephen Jenkinson (death doubla, elder, teacher, author, storyteller, spiritual activist, farmer and founder of the Orphan Wisdom School, a teaching house and learning house for the skills of deep living and making human culture), Kaira Jewel Lingo (mindfulness teacher, mentor, dharma teacher), Colin Campbell (practitioner of traditional African medicine) & Selena King (death doula)
How do we collectively and individually hold death? What effect does the modern day's "War on Death" have on our personal and collective psyche and our ability to feel truly alive? How does this denial affect the way we treat the natural living world? For month 5 we will dive explore the place of death and how we can come to honour death, holding it in a light way.


Evening talk with:
Stephen Jenkinson, Kaira Jewel Lingo & Charles Eisenstein, Tuesday 2 February 2021, 7pm BST
Workshop with:
Colin Campbell & Selena King, Saturday 13 February 2021, 4pm GMT


* March: EMBODIMENT, MOVEMENT & TRAUMA *
Sister Euphrasia (Efu) Nyaki (psychotherapist offering alternative forms of preventative health care and holistic healing to adult and adolescent women and their impoverished communities in northern Brazil) , Dr Christine Caldwell PDH (Bodyfulness, the founder of and professor emeritus in the Somatic Counseling Program at Naropa University in Boulder), Rae Johnson (Rae Johnson, PhD, RSMT, BCC is a queer-identified scholar working at the intersection of somatic studies and social justice), Vuyi Quebeka (multidimensional storyteller, sangoma (healer) and artist) & Ruairi Edwards (musician)
Somatics is the study of the soma, a Greek word that means "the living organism in its wholeness". It is a methodology for transformation that helps us understand that change doesn't come simply from thinking differently. The process involves shifting what we understand, what we can feel, and what we practice, reconnecting us with the incredible data and resilience of the body. During month 6 we will dive into the poetics of the body for a month of embodiment and movement. We will explore how can we move beyond short-term and talk-based therapies into lifelong personal and social evolution through trusting and following body states? We will be investigating how somatics relate to social justice.
Evening talk with:
Sister Euphrasia (Efu) Nyaki, Christine Caldwell and Rae Johnson, Tuesday 2 March 2021, 7pm GMT
Workshop with:
Ruairi Edwards & Vuyi Qubeka, Saturday 13 March 2021, 4pm GMT
* April: MEDITATIVE PRACTICE & CONSCIOUSNESS *
With, Dr Rupert Sheldrake PHD (scientist, biologist and author best known for his hypothesis of morphic resonance), Matthew Fox (spiritual theologian, an Episcopal priest and an activist for gender justice and eco-justice), Vuyi Qubeka ((multidimensional storyteller, sangoma (healer) and artist), Satish Kumar (peace activist, pilgrim and author), Sam Gandy (Psychedelic researcher, Beckley Foundation and Imperial College London)
If we haven't cultivated mindfulness in our attention, how do we ever expect to break out of the cycle of crises response? Meditative practices are instrumental to catalysing transformative and harmonious change on both a personal and collective level. Through deepening our awareness we can ensure we do not recreate the same structures that got us into this mess in the first place. Through mindfulness and meditation we can deepen our ecological connection and cultivate the clarity we need to navigate these times of uncertainty and change. For month 7 we are exploring consciousness, the science of spiritual practices and meditation.
Evening talk with: 
Rupert Sheldrake, Matthew Fox, Vuyi Qubeka, Satish Kumar, Sam Gandy, Tuesday 6 April 2021, 7pm GMT
Workshop with:
Colin Dunsmuir, Saturday 17 April 2021, 4pm GMT
* May: MYTH, STORY & IMAGINATION *
With, Sharon Blackie (an award-winning writer of fiction and nonfiction, a psychologist who has specialised both in neuroscience and narrative, and a mythologist with a specialisation in Celtic Studies),  Carolyn Hillyer (musician and artist), Colin Campbell (practitioner of traditional African medicine) and Makgathi Mokwena (a Rites of Passage Ceremonialist, Healer, Arts Therapist, Yoga Teacher, Performer, Personal Development Facilitator and Companion).

In a world of divisions and polarisation, shared stories allow us to come together, shift narrative, hack culture and truly drive change. But we cannot truly listen to anyone else's story, much less develop shared ones, unless we are brave enough to tell our own. For month 8 we will be joined by mythologists and story-tellers to delve into the mythic imagination.


Evening talk with:
Colin Campbell and Makgathi Mokwena, Tuesday 4 May 2021, 7pm GMT
Workshop with:
Sharon Blackie & Carolyn Hillyer, Saturday 15 May 2021, 4pm GMT


* June: RE-IMAGINING ACTIVISMS *
With brontë velez (works in urban gardening and social justice, with an intention to compost the violences forged by environmental racism through radical imagination), Alastair McIntosh (a Scottish writer, broadcaster and activist on social, environmental and spiritual issues)  & Adrian Kawaley-Lathan (works in peacebuilding, storytelling and communications to transform apathy into action.)
How can we re-imagine "activisms" and transform our methods and attitudes to ensure both inner and outer transformation? How can we expand our understanding of who we are and where we are, whilst building cross-movement solidarity and co-creating transformative societal change? How can we unite, within and without? For our final month together we will be gathering our learnings to investigate how we can participate in co-creating a world that thrives with joy and celebration.
Evening talk with:
brontë velez, Alastair McIntosh & Adrian Kawaley-Lathan, Tuesday 1 June 2021, 7pm GMT
Workshop with:
Eve, Christabel & Ruby, Saturday 12 June 2021, 4pm GMT
_____________________________________________________________________________
ENCOUNTERS WITH PLACE
Over the 9 months we will be joined by 4 co-creators of communities that live in harmony with the natural living world and the deep desires and needs of the communities that inhabit them.
Luke Metelerkamp, Akkerdal, Piketberg, South Africa
Alnoor Ladha, Tierra Valiente, Costa Rica
Seth Tabatznik, 42 Acres, Somerset
Eric Swarts, Lynedoch EcoVillage, Stellenbosch, South Africa
_____________________________________________________________________________
About the Organisers:
This 9 month course is being woven together by Bertha fellow Eve Annecke and Advaya founders Ruby Reed and Christabel Reed.