---
---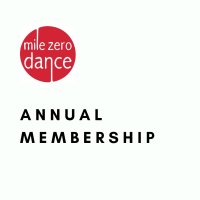 Become an MZD member!  Become a supporter of MZD and join our growing our community! 

When you purchase a membership you will receive the following perks;
-Voting privileges at AGM
-Signed up to monthly newsletter
-MZD sticker, MZD membership card and season program
An MZD membership only costs $15 annually. Membership runs September 1 through August 31, annually each year. You only have until Sept 25, 2020 to renew your membership and have a say at our AGM. Memberships are however available all year round.
MZD would also like to invite you to become a monthly donor. If you would like to sign up for our monthly donor program head on over to our Canada Helps page for more info. All monthly donors receive an annual membership as part of the perks.
https://www.canadahelps.org/en/charities/mile-zero-dance-society/?utm_expid=.Zw6wDABWRgyB0oPClDzoRg.0&utm_referrer=https%3A%2F%2Fwww.google.com%2F
Contact Kelly at admin@milezerodance.com with any questions you have about membership.